Help Centre
I'm considering investing with InvestSMART

Investment Process & Philosophy

Managing My Account Details
Can't find your answer? Use our chat function on the bottom right and one of our team will help you out.
Security of my holdings & InvestSMART website
Are my shares CHESS Sponsored?
Yes. Under the Professionally Managed Account (PMA), all investors are the registered and beneficial owners of the investments held in a CHESS sponsored account.
How do I turn on two-factor authentication 2FA
InvestSMART is pleased to announce that its two-factor authentication (2FA) - or two-step verification security system is now live across all its portfolio platforms, plus its Intelligent Investor and Eureka Report sites.
What is 2FA?
Two-factor authentication (2FA) - or two-step verification - is a security feature that adds an extra layer of protection to your account. Instead of using a single factor to authenticate your identity, like a password, you can use a second, one-time code sent to you via SMS or generated in an authenticator mobile application like Google Authenticator, Microsoft Authenticator or Authy
How do I enable 2FA?
The 2FA system is opt-in. To activate it, please read the following steps.
You can click here to go directly to this feature or click on the 'My Account' button in the top right corner and then on the My Account Tab. You will see the third option down the list is Two-Factor Authentication.
There are two different 2FA methods to choose from:
Get a code via SMS/text or

Generate a code via an Authenticator Application like Google Authenticator, Microsoft Authenticator or Authy.
You can choose both methods. If you enable both, the authenticator app will be used as the primary method.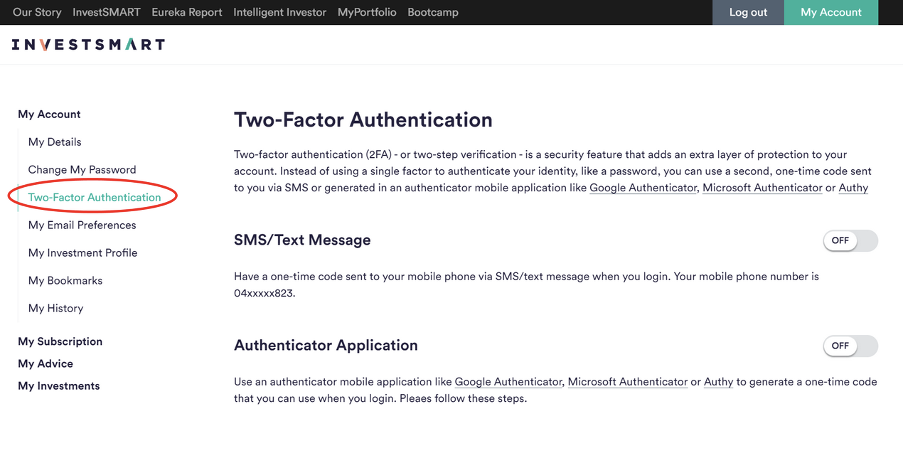 Method for turning on the SMS/Text Message.
Turn on the SMS/Text Message toggle.

An SMS/text is sent to your mobile device with a code

Enter the code and click the "Verify & Save Setting" button.

An 'All Done' message will appear confirming your SMS authentication is set up
Method for turning on the Authenticator Application
Turn on the Authenticator Application toggle

Download the Authenticator of choice and then use the generated QR code

Enter the code and click the "Verify Code" button.

An 'All Done' message will appear confirming your Authenticator App is set up
Once you have activated your two-factor authentication (2FA), you will now have an extra step at login. As usual, your first step will be entering your email and password combination. The second step will require you to enter a valid 2FA code from either the SMS you receive or generate the code via your authenticator app of choice.
Please be aware that you can:
Select the "Don't ask again on this device for 30 days" option.

Choosing this means a 2FA code won't be required for 30 days.

Your login process will be as usual on that particular device/browser.

With 2FA enabled, you should be able to bypass the Google reCAPTCHA process.
If you have any questions or need further assistance, please click on the salmon-coloured help button in the bottom right-hand corner of the page.
This help button will begin a live chat with a team member during office hours. If your query is outside office hours, we will get back to you as soon as possible.
What if something happens to InvestSMART?
Under the Professionally Managed Account (PMA), all investors are the registered and beneficial owners of the investments held in a CHESS sponsored account.
If anything occurred to see InvestSMART cease operations, your investments would still remain in the name of the investor and/or entity listed as the Professionally Managed Account (PMA) holder.
You would then be able to facilitate the transfer of your investments to another CHESS sponsored account that you have access to and control over to continue to manage your investments.
Is you website secure? How safe are my details that are stored with you?
Your privacy and security are our top priority.
Our bank-level web security keeps your information safe and secure (for the geeks out there, that's our 256-bit SSL/TLS certificate).
Your investments are held safely in your own name under your own individual Holder Identification Number (HIN).
We never share your personal information with unrelated third parties or advertisers.
I need to change my bank account
You can change your bank account details online here.
Or login and go to My Account > My Investments > Portfolio Actions > Investment Preferences.
You can also check your current bank account details.
Please note: We have an enhanced level of security when changing bank details.
To change these bank details:
Enter the last four (4) digits of your current bank account number.

Add the name of who holds this bank account in New Account Name

Enter the BSB

Enter the new account number

Scroll to the bottom of the page and click Save Preferences

You will be asked to verify using a code sent to either your mobile phone or email address.
Security Process for Changing Bank Details
After you have completed the steps above, please follow this additional security process to ensure the safety of your account:
Send a copy of your bank statement showing the account holders name(s) and the BSB/ account number.

Email the statement to invest@investsmart.com.au, making sure that the name of the bank account holders matches the PMA holders.

We'll give you a call on your registered phone number to confirm that you're the one requesting the change.
By completing these additional steps, we can further ensure the security of your account when changing bank details.
Related topics
Do I receive franking credits and do I get a tax statement?
Yes. You will receive a comprehensive tax statement at the end of financial year and you will receive the franking you're entitled to once you submit your tax return.
What portfolio should I invest in?
You should read the PMA target market determination to see the target market for each portfolio. In addition to this, InvestSMART has several tools and guides to help you select the right portfolio.
You will notice a common thread throughout the guides, the investment time frame. We recommend investors look at the suggested time frame associated with each portfolio to see if it aligns with their investment goal.
Here is a list of tools and guides to help select the right portfolio:
Calculators
Additionally, we have InvestSMART Bootcamp, which is a comprehensive investment course designed to get you started on the right foot.
What is a Professionally Managed Account?
The InvestSMART Professionally Managed Account (PMA) is established and offered within the registered managed investment scheme known as the Professionally Managed Accounts.
Each investor has a separate account to which their investments are allocated. You will require a different PMA for each investment entity you have e.g. individual, joint, SMSF etc.
A client will open an InvestSMART PMA and can then choose between the various InvestSMART Diversified Portfolios. An account can hold one or more models. The management fee is charged at the account level, not per portfolio.
Once you decide which model portfolio(s) are best suited to your investment needs and objectives, we will purchase the investment to be included in your account to reflect the model portfolio or combination of model portfolios that you have selected.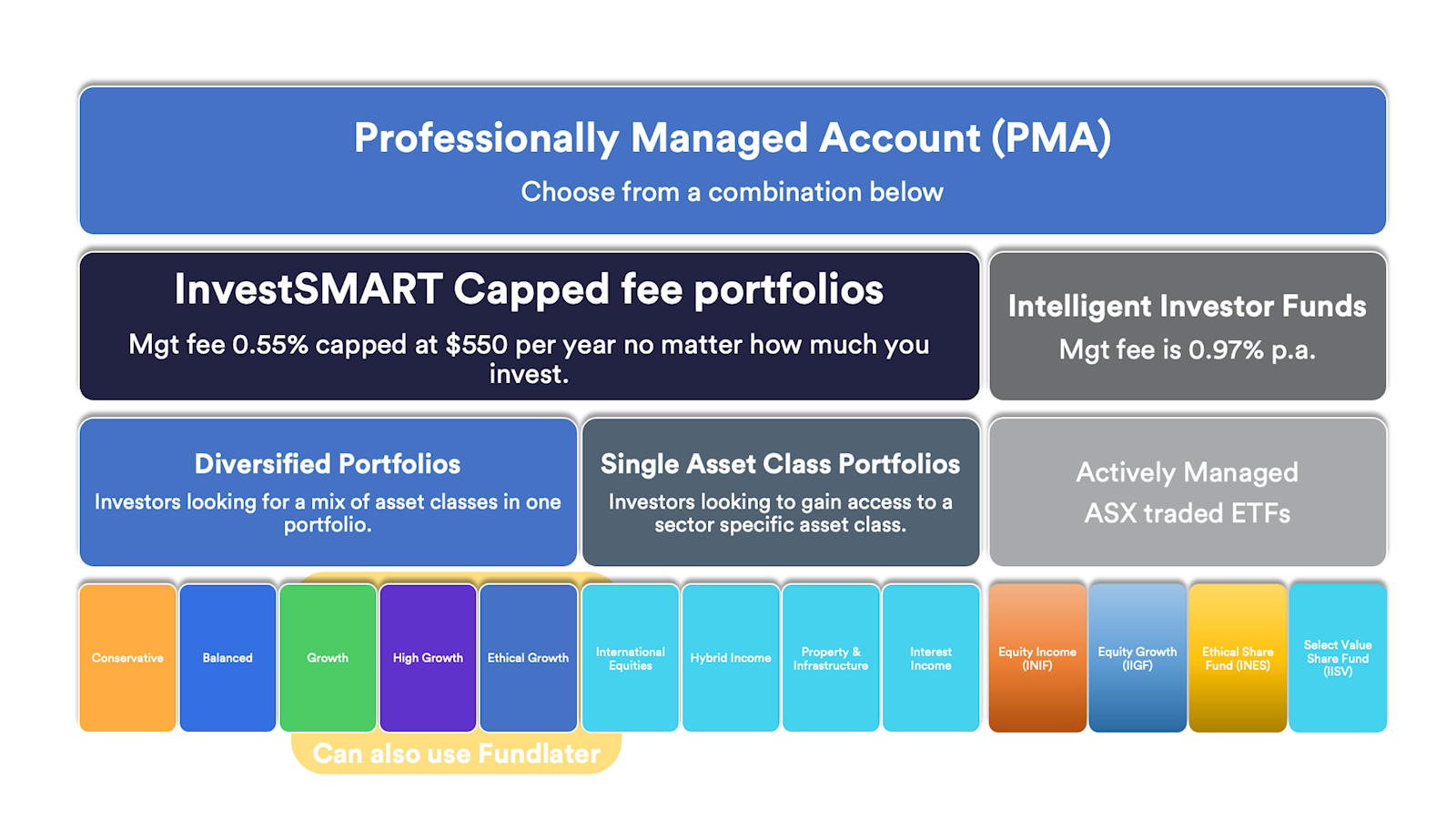 What does InvestSMART invest in?
When you open an InvestSMART Professionally Managed Account (PMA), you choose from InvestSMART's range of Diversified Portfolios to invest in.
A list of the portfolios can be found here.
These managed portfolios comprise of Exchange Traded Funds (ETFs) or, in some cases direct shares. In particular, the InvestSMART Hybrid Income Portfolio invests in Australian listed hybrids and listed debt securities.
What is an Exchange Traded Fund?
An Exchange Traded Fund, or ETF, is a managed fund that trades on the stock market.
There are different types of ETFs, each with its own purpose, but most commonly, they will track or follow a particular index.
For example, if you want to follow or track the S&P ASX 200 (the top 200 Australian shares by market capitalisation), you could either buy each individual share (200 shares) or one ETF. The one ETF wraps up the 200 shares into one holding. By holding this one ETF, you get exposure to the movements of the ASX 200, less any fees.
Investing in ETFs is a form of passive investing, and they generally incur cheaper management fees, as fewer investment decisions are required to manage an ETF. They are also quite liquid and traded easily on an exchange.
You can see the holdings of each InvestSMART managed portfolio by navigating to its product page and scrolling to Key Facts > Holdings.
Do I own the shares/ETFs?
Yes, all investments held within your InvestSMART PMA are held in your name (or chosen entity e.g. SMSF) in a CHESS sponsored broking account.
You are the registered legal and beneficial owner of a portfolio of securities. You can log into the investor website at any time to view the individual securities that make up your Account.