Help Centre
I'm considering investing with InvestSMART

Investment Process & Philosophy

Managing My Account Details
Can't find your answer? Use our chat function on the bottom right and one of our team will help you out.
How do the InvestSMART Professionally Managed Accounts work
What portfolio should I invest in?
You should read the PMA target market determination to see the target market for each portfolio. In addition to this, InvestSMART has several tools and guides to help you select the right portfolio.
You will notice a common thread throughout the guides, the investment time frame. We recommend investors look at the suggested time frame associated with each portfolio to see if it aligns with their investment goal.
Here is a list of tools and guides to help select the right portfolio:
Calculators
Additionally, we have InvestSMART Bootcamp, which is a comprehensive investment course designed to get you started on the right foot.
What is a Professionally Managed Account?
The InvestSMART Professionally Managed Account (PMA) is established and offered within the registered managed investment scheme known as the Professionally Managed Accounts.
Each investor has a separate account to which their investments are allocated. You will require a different PMA for each investment entity you have e.g. individual, joint, SMSF etc.
A client will open an InvestSMART PMA and can then choose between the various InvestSMART Diversified Portfolios. An account can hold one or more models. The management fee is charged at the account level, not per portfolio.
Once you decide which model portfolio(s) are best suited to your investment needs and objectives, we will purchase the investment to be included in your account to reflect the model portfolio or combination of model portfolios that you have selected.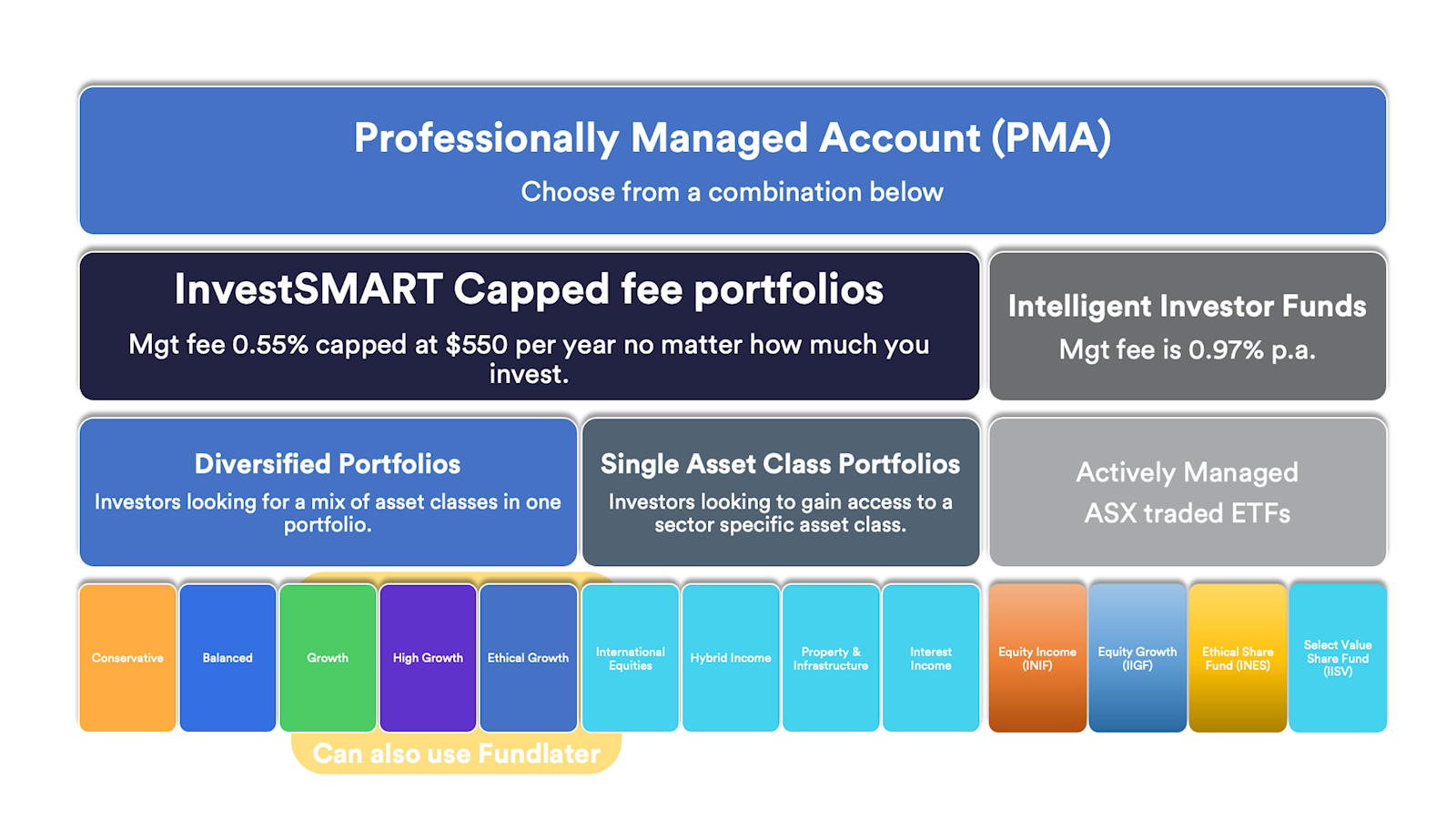 Can I hold more than one portfolio in an account?
Yes, you can hold multiple portfolios within a single Professionally Managed Account (PMA).
This allows you to diversify your investments across different models and may also offer a capped management fee when the models are part of the capped fee range.
The minimum investment required for each portfolio will vary, so you should check the specific requirements for each one you are interested in.
Different portfolio types and minimum investment amounts
When holding multiple portfolios within a single PMA, you can choose to diversify your investments by selecting a mix of different portfolio types. For example, you may choose to hold a diversified portfolio, which invests in a mix of different asset classes such as stocks, bonds, and cash, as well as a single asset class portfolio, which focuses on a specific asset class such as international equities.
To hold these portfolios within a single PMA, you will need to meet the minimum investment balance required for each one. This means that if the minimum investment balance for the InvestSMART Balanced Portfolio is $10,000 and the minimum investment balance for the InvestSMART International Portfolio is also $10,000, your total minimum investment balance for holding both of these portfolios would be $20,000.
What does InvestSMART invest in?
When you open an InvestSMART Professionally Managed Account (PMA), you choose from InvestSMART's range of Diversified Portfolios to invest in.
A list of the portfolios can be found here.
These managed portfolios comprise of Exchange Traded Funds (ETFs) or, in some cases direct shares. In particular, the InvestSMART Hybrid Income Portfolio invests in Australian listed hybrids and listed debt securities.
What is an Exchange Traded Fund?
An Exchange Traded Fund, or ETF, is a managed fund that trades on the stock market.
There are different types of ETFs, each with its own purpose, but most commonly, they will track or follow a particular index.
For example, if you want to follow or track the S&P ASX 200 (the top 200 Australian shares by market capitalisation), you could either buy each individual share (200 shares) or one ETF. The one ETF wraps up the 200 shares into one holding. By holding this one ETF, you get exposure to the movements of the ASX 200, less any fees.
Investing in ETFs is a form of passive investing, and they generally incur cheaper management fees, as fewer investment decisions are required to manage an ETF. They are also quite liquid and traded easily on an exchange.
You can see the holdings of each InvestSMART managed portfolio by navigating to its product page and scrolling to Key Facts > Holdings.
Do I own the shares/ETFs?
Yes, all investments held within your InvestSMART PMA are held in your name (or chosen entity e.g. SMSF) in a CHESS sponsored broking account.
You are the registered legal and beneficial owner of a portfolio of securities. You can log into the investor website at any time to view the individual securities that make up your Account.
How often do you rebalance the portfolios?
Rebalancing within your InvestSMART PMA is an automatic process whereby model portfolios are compared against the investors' accounts. The portfolios are monitored on a daily basis, reviewed monthly and reviewed by the Investment Committee formally every quarter.
We aim to keep transactions to a minimum and allow the asset classes to provide the return rather than chopping and changing out of investments.
Your Account will only be rebalanced in the following circumstances:
The Portfolio Manager decides to rebalance or switch out a holding;
You add cash or remove cash from your account;
You switch Model Portfolios or make other alterations to your Account; or
Where your cash percentage has moved away from the model portfolio percentage due to dividends received or fees paid.
Investors can see the transactions via the Transactions section when logged in.
Is now the right time to invest?
This is the most common question we get from experienced and inexperienced investors alike.
No matter when you are looking to invest, there will always be something in the news that will have you asking this question. Whether it is a commentary on our local housing market, geopolitical uncertainty, or fears of a global pandemic. Uncertainty is constant, yet history shows us investment markets and asset classes continue to grow over the long term.
Having an investment plan and sticking to it is far more important than picking the exact day or week to invest. Developing good investment habits by investing for the long-term, in the right mix of asset classes, adding to your investment over time and rebalancing in a systematic fashion will see you reach your goal. In addition, chopping and changing your portfolio will chew up returns with transactions costs and potentially reduce your invested capital by paying additional taxes.
InvestSMART can help you select and stick to a plan with:
Provides simple contribution and income reinvestment options

Transparent online monitoring through your My Account

Consolidated annual tax reporting direct to your inbox

CHESS sponsored ownership of your portfolio holdings

Our famous low fees starting at just over $1 a week, capped* at $550 per year.
Can I hold other shares or ETFs in my InvestSMART PMA?
No, you can only hold InvestSMART portfolios or Intelligent Investor ETFs.
Can I transfer my shares or assets into a PMA?
InvestSMART does not allow investors to transfer existing shares, holdings, or assets, in or out of a Professionally Managed Account (PMA) to facilitate initial funding, contributions or withdrawals.
We believe this decision is in the best interest of our clients for the reasons below.
Cost
Transferring shares, called an in-specie transfer, can be costly. Brokerage services will charge a fee between $30 and $90 per security to cover the time needed to facilitate the transfer.

For example, transferring 15 stocks could cost between $450 and $1,350.
Administration
Unsurprisingly there is a lot of paperwork involved for the investor, us and the current broker holding the shares on their platform.
Investors are required to sign, scan and return a transfer request for each security along with a detailed cost base breakdown to ensure that tax implications are calculated accurately on any future transactions.
Lag Period
Share transfers require not only all the paperwork to be completed by the investors, but paperwork and administration to be acted upon by the brokerage service transferring the shares and the brokerage service receiving the shares.

It is not uncommon to see this process take anywhere from 2 weeks to 2 months, during which your investments are in limbo, which is dangerous should there be short-term volatility and you wish to trade upon them.
Alignment
We do not expect that many clients will hold the same investments or weightings as the Model Portfolio(s) they have selected for their Professionally Managed Account (PMA).
What this means is that even once you have paid the transfer fees, completed the paperwork and waited for the process to be finished - it is still very likely that we will need to sell some, or all, of your shares to rebalance your investments based on the Model Portfolio(s) that you selected.
We want to make your transition to investing with us as easy as possible, so please feel free to contact us at invest@investsmart.com.au
When do I need to open a new account?
If you are an existing investor the only time you would open a brand new InvestSMART Professionally Managed Account (PMA) is if you are investing via a different entity. For example you have a personal account but also wish to invest in joint names or an in your self-managed super fund.
As an existing investor you can add funds to your existing PMA or add a new investment portfolio to your PMA via the Add Funds feature in My Account.
Here are some examples of when you would open a new account:
You're a new client with no account
You want to change or open an account under a different legal entity like a company, trust, or SMSF
You want to add your partner as a legal owner
You previously closed your account
Is there a minimum balance?
The current minimum investment amount for the InvestSMART Professionally Managed Account (PMA) starts at $10,000 per model portfolio; unless otherwise stated in the Investment Menu, Key Facts section of the online information page or the Key Details section of the Investor Pack.
If you already have an InvestSMART PMA and just wish to add to your existing investment model, you do not require another $10,000 to contribute to that same investment.
Example: In your InvestSMART PMA you have $15,000 in the InvestSMART Conservative Portfolio and $11,000 in the InvestSMART Interest Income Portfolio.
You wish to withdraw $6,000 from the total portfolio.
Each portfolio requires a $10,000 minimum balance, so $5,000 would be withdrawn from the InvestSMART Conservative Portfolio and $1,000 from the InvestSMART Interest Income Portfolio.
Can I withdraw at any time?
Yes, you can withdraw your funds at any time using the Withdrawal Request feature via the My Account section.
Your investments are not subject to a minimum investment period, and there is no exit fee.
You should, however, always consider the suggested timeframe of your chosen model portfolio(s) and associated brokerage charges to sell your holdings.
The holdings are very liquid and trade as ETFs on the ASX.
We usually have funds returned to clients in 4-5 business days from the submitted withdrawal request. Withdrawal requests are processed the following day they're received.
If you have multiple model portfolios in your InvestSMART PMA you can choose which investment the funds are drawn from via the Withdrawal Request section.
Do I receive franking credits and do I get a tax statement?
Yes. You will receive a comprehensive tax statement at the end of financial year and you will receive the franking you're entitled to once you submit your tax return.
I have added funds, will you buy shares now?
The InvestSMART Professionally Managed Accounts (PMAs) operate off model portfolios. For example within your InvestSMART PMA you could choose to invest in the InvestSMART High Growth Portfolio. The InvestSMART High Growth Portfolio has an ideal weighting to each holding. No matter if someone invests $10K or $1M, they will have the same percentage exposure to each holding. Transactions occur when a client's account gets out of sync with the model or when the investment manager decides to change the model.
As cash is added to the model, the cash holding percentage will increase while all other asset classes will decrease as a percentage. The change in asset percentages will bring the client's account out of sync with the model, and transactions will need to take place to realign it. Whether or not we transact will depend on how out of sync the account is compared to the model. For example, adding $1,000 to a $1M account will not move the needle but adding that amount to a $10K account will.
We will use the funds to buy more holdings. Please remember that what you can view on your InvestSMART account is always one day behind, e.g. yesterday's close and yesterday's transactions.
Understanding the funding process and timeframe
When you BPAY your funds before 6 pm on a business day, they will typically arrive in our PMA Trust Account the following business day.
We will email you that we have received your partial or total funds, depending on the amount you have sent.
Once we have received the total funds for investment, we will then send your funds to the share brokerage account opened in your name. This transfer typically takes overnight as well.
When your funds arrive at the share broker the next business day, we will begin to purchase holdings in line with your chosen portfolio.
Once the shares/ETFs have settled (T+2), we will enable the online platform for you to view and administer your holdings. We will send you a welcome email explaining how to access the online platform.
This process takes about 4-5 business days from when we receive your total funds.
Why does it take 4-5 business days and not immediately?
We're proud to offer low and capped management fees for our InvestSMART investment products. At the heart of everything we do, our purpose is to make investing rewarding, accessible and affordable.
To keep fees low and capped, we take a process-driven approach. For instance, our trading team can keep costs down by trading once a day during a specific period. This means that funds received are actioned the following business day.
Settlement periods
As with any ASX listed share or ETF, there is a two business days settlement period. The ASX explains this here. This settlement period means your holdings won't settle until two days after the transaction takes place.
Your investments are held in a CHESS sponsored brokerage account. This adds an extra layer of protection and can offer more tax advantages as you can transfer holdings to your share trading account and not be forced to sell them. However, this means that getting funds from your bank account to the brokerage bank account adds an extra step. We are in the process of investigating CMA accounts to improve this.
Related topics
Are my shares CHESS Sponsored?
Yes. Under the Professionally Managed Account (PMA), all investors are the registered and beneficial owners of the investments held in a CHESS sponsored account.
What if something happens to InvestSMART?
Under the Professionally Managed Account (PMA), all investors are the registered and beneficial owners of the investments held in a CHESS sponsored account.
If anything occurred to see InvestSMART cease operations, your investments would still remain in the name of the investor and/or entity listed as the Professionally Managed Account (PMA) holder.
You would then be able to facilitate the transfer of your investments to another CHESS sponsored account that you have access to and control over to continue to manage your investments.
Is you website secure? How safe are my details that are stored with you?
Your privacy and security are our top priority.
Our bank-level web security keeps your information safe and secure (for the geeks out there, that's our 256-bit SSL/TLS certificate).
Your investments are held safely in your own name under your own individual Holder Identification Number (HIN).
We never share your personal information with unrelated third parties or advertisers.
I need to change my bank account
You can change your bank account details online here.
Or login and go to My Account > My Investments > Portfolio Actions > Investment Preferences.
You can also check your current bank account details.
Please note: We have an enhanced level of security when changing bank details.
To change these bank details:
Enter the last four (4) digits of your current bank account number.

Add the name of who holds this bank account in New Account Name

Enter the BSB

Enter the new account number

Scroll to the bottom of the page and click Save Preferences

You will be asked to verify using a code sent to either your mobile phone or email address.
Security Process for Changing Bank Details
After you have completed the steps above, please follow this additional security process to ensure the safety of your account:
Send a copy of your bank statement showing the account holders name(s) and the BSB/ account number.

Email the statement to invest@investsmart.com.au, making sure that the name of the bank account holders matches the PMA holders.

We'll give you a call on your registered phone number to confirm that you're the one requesting the change.
By completing these additional steps, we can further ensure the security of your account when changing bank details.
How do I turn on two-factor authentication 2FA
InvestSMART is pleased to announce that its two-factor authentication (2FA) - or two-step verification security system is now live across all its portfolio platforms, plus its Intelligent Investor and Eureka Report sites.
What is 2FA?
Two-factor authentication (2FA) - or two-step verification - is a security feature that adds an extra layer of protection to your account. Instead of using a single factor to authenticate your identity, like a password, you can use a second, one-time code sent to you via SMS or generated in an authenticator mobile application like Google Authenticator, Microsoft Authenticator or Authy
How do I enable 2FA?
The 2FA system is opt-in. To activate it, please read the following steps.
You can click here to go directly to this feature or click on the 'My Account' button in the top right corner and then on the My Account Tab. You will see the third option down the list is Two-Factor Authentication.
There are two different 2FA methods to choose from:
Get a code via SMS/text or

Generate a code via an Authenticator Application like Google Authenticator, Microsoft Authenticator or Authy.
You can choose both methods. If you enable both, the authenticator app will be used as the primary method.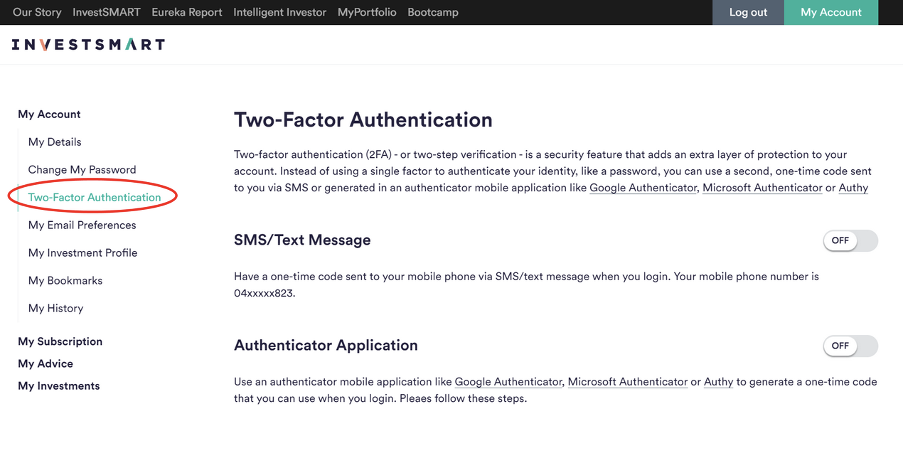 Method for turning on the SMS/Text Message.
Turn on the SMS/Text Message toggle.

An SMS/text is sent to your mobile device with a code

Enter the code and click the "Verify & Save Setting" button.

An 'All Done' message will appear confirming your SMS authentication is set up
Method for turning on the Authenticator Application
Turn on the Authenticator Application toggle

Download the Authenticator of choice and then use the generated QR code

Enter the code and click the "Verify Code" button.

An 'All Done' message will appear confirming your Authenticator App is set up
Once you have activated your two-factor authentication (2FA), you will now have an extra step at login. As usual, your first step will be entering your email and password combination. The second step will require you to enter a valid 2FA code from either the SMS you receive or generate the code via your authenticator app of choice.
Please be aware that you can:
Select the "Don't ask again on this device for 30 days" option.

Choosing this means a 2FA code won't be required for 30 days.

Your login process will be as usual on that particular device/browser.

With 2FA enabled, you should be able to bypass the Google reCAPTCHA process.
If you have any questions or need further assistance, please click on the salmon-coloured help button in the bottom right-hand corner of the page.
This help button will begin a live chat with a team member during office hours. If your query is outside office hours, we will get back to you as soon as possible.