Invest With Us
Investment Portfolios
FAQs
What is the Standard Risk Measure?
The Standard Risk Measure (SRM) is a guide developed by the Financial Services Council (FSC) and The Association of Superannuation Funds of Australia (ASFA) that outlines the likely number of negative annual returns expected over any 20 year period.
The purpose of the SRM is to provide a standardised labelling system to assist investors in comparing investment options across providers, as shown below in Figure 1, FSC/ASFA Standard Risk Measure Classifications.
| Risk Label | Estimated number of negative annual returns over any 20 year period |
| --- | --- |
| Very Low | Less than 0.5 |
| Low | 0.5 to less than 1 |
| Low to Medium | 1 to less than 2 |
| Medium | 2 to less than 3 |
| Medium to High | 3 to less than 4 |
| High | 4 to less than 6 |
| Very High | 6 or greater |

Source: FSC/ASFA Standard Risk Measure Guidance Paper for Trustees, July 2011
We have adopted these risk rating guidelines and applied them to our products, as highlighted in Figure 2: InvestSMART Group Investment Products' SRM: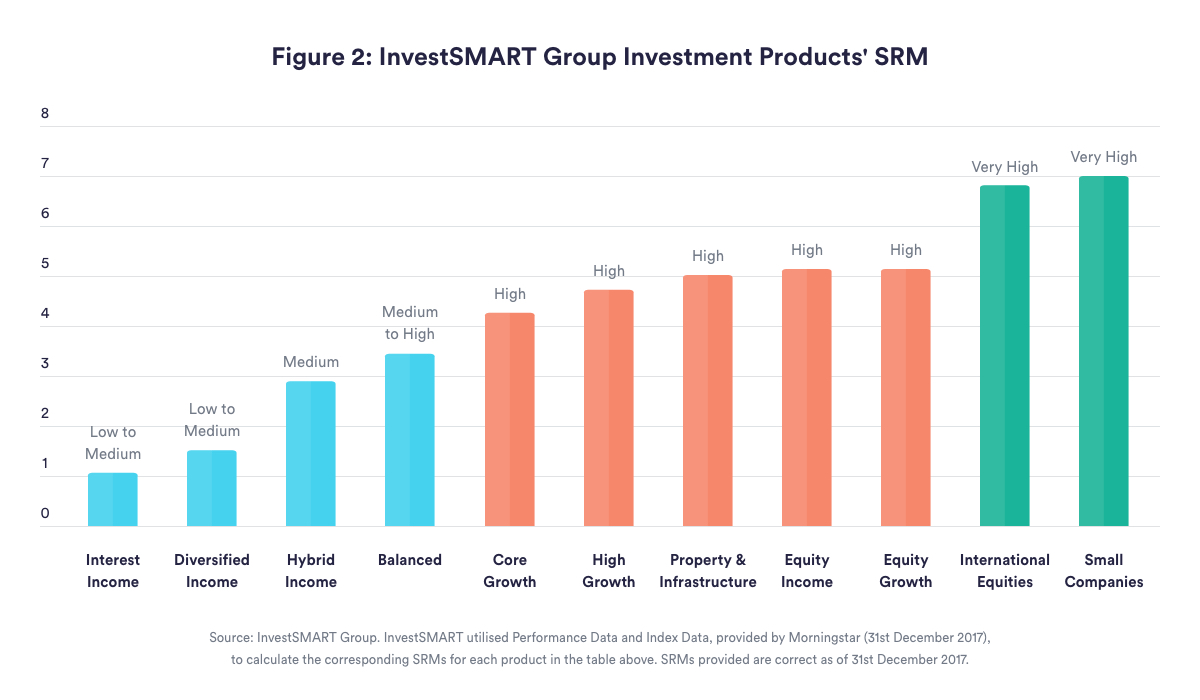 It should be noted, however, that the SRM is not a complete assessment of all forms of investment risk. For instance, it does not detail what the size of a negative return could be or the potential for a positive return to be less than a member may require to meet their objectives. As such, it should be used as a guide and as with any investment, investors should ensure they are comfortable with the risks and potential losses associated with their chosen investment option(s). Any information should be considered general in nature and before making any investment decisions, please ensure that you read all relevant disclosure documents related to that product.
What is an Exchange Traded Fund?
An Exchange Traded Fund, or ETF, is a type of managed fund where the underlying securities comprising this fund mimic an Index. Indices are created by ratings agencies to represent a subset of the stock market e.g. the largest companies trading on the Australian Stock Exchange is represented by the All Ordinaries Index. An ETF aims to invest directly in those companies making up a particular Index. As the companies/stocks/securities have already been determined in the Index an ETF is aiming to replicate, the level of funds management required is minimal compared to other types of managed funds where active investment decisions are required. Investing in ETFs are a form of passive investing and generally incur cheaper management fees, as fewer investment decisions are required in terms of managing an ETF.
Can I set up a regular contribution plan?
Yes, when setting up an investment or at any point during your investment you are able to set up a direct debit regular contribution plan for a minimum of $100 per month. This can be altered at any point. Existing investors can find this form by going to the Forms section of InvestSMART Funds section of the Portfolio Manager or by emailing invest@investsmart.com.au.
Can I invest in more than one model?
Yes. You can invest in as many or as few of the portfolios as you like. You can allocate a specific weight to each model and choose to have it rebalanced on a regular basis or have the percentages floating as the models change in value.
What is a Professionally Managed Account (PMA)?
Under our Professionally Managed Accounts, you will gain the following benefits:
1. Professionally managed investment portfolio: An investment portfolio managed by InvestSMART's investment team.
2. You own the securities: The investor holds legal ownership and the underlying securities are registered under your name.
3. Reporting: Complete end of year Accounting and tax reporting is provided on your investment.
4. Transparency: Investors are provided full visibility of all stocks held in your portfolio.
5. Tailored & Unique Portfolio: Under a PMA, we offer multiple model portfolios to choose from so that you can create a customised and diversified portfolio to suit your individual needs. Our model portfolios will differ in the levels of risk and return, and each model offers a different investment emphasis (such as Australian & international equities, property securities, international ETFs, etc).
6. Account Management: The paperwork and administration is taken care of, reducing the administrative burden on investors.
7. Tax effective: You only pay tax on gains & income you received.
8. Inflows & outflows: Your investment will not be impacted by the decisions of other model portfolio investors. An example of this is when a pooled investment like a managed fund receives redemption requests at the bottom of the market and is a forced seller at the worst time.
9. Flexibility with income/distributions: Choose to receive the dividends directly into an account of your choice or set up a regular payment or request drawdowns on an adhoc basis.