Invest With Us
As part of our mission to keep investments simple and help you grow and protect your wealth, we're proud to be the first to offer capped fees in Australia. Whatever shape and size your financial goal comes in, we've got the solution for you.
Low-cost ETF Portfolios
Part of our 'Capped Fees' range, these portfolios are designed to provide you with better returns by carefully balancing risk and fees by investing in a blend of our preferred Exchange Traded Funds (ETFs).
Diversified Portfolios
Single Asset Class Portfolios
Active Stock Portfolios
Looking for a simple way to diversify your portfolio? We have a range of cost-effective investment solutions to get your portfolio where it needs to be.
No products found
Can't find what you're looking for? Talk to one of our product specialists on 1300 880 160.
Investor Pack
Interested in investing with us? Provide your details below to receive more information on our portfolios via email or post.
Why InvestSMART?
What was the easiest way for us to know the strength of our investment solutions? We invest in them ourselves. No matter your wealth goals, find the investment solution right for you.
Learn More
You're in control
Add or withdraw from your investments at any time. Reinvest or elect to have dividends paid directly to your bank account.
Reduce risk
With our suite of investment options, build a diversified portfolio to match your needs to minimise your risk without sacrificing returns.
Low fees
Don't let high fees affect your long-term returns. Fees start from 0.77% p.a – lower than most managed funds.
Expertise
Benefit from the experience of some of Australia's top research analysts - our investment options are actively managed by our in-house experts.
Flexibility
We make it easy to adjust your portfolio and switch between different investment models to suit your needs at every life stage.
Transparency
Enjoy 24/7 visibility across your investments. View your performance online whenever you want.
Our investment committee
The primary role of our Committee is to oversee the general management of our investment products - including the development of new products and ongoing monitoring of the Company's investments and its strategies.
FAQs
Still deciding if InvestSMART is right for you? These frequently asked questions may help.
View more FAQs
What is the Standard Risk Measure?
The Standard Risk Measure (SRM) is a guide developed by the Financial Services Council (FSC) and The Association of Superannuation Funds of Australia (ASFA) that outlines the likely number of negative annual returns expected over any 20 year period.
The purpose of the SRM is to provide a standardised labelling system to assist investors in comparing investment options across providers, as shown below in Figure 1, FSC/ASFA Standard Risk Measure Classifications.
| Risk Label | Estimated number of negative annual returns over any 20 year period |
| --- | --- |
| Very Low | Less than 0.5 |
| Low | 0.5 to less than 1 |
| Low to Medium | 1 to less than 2 |
| Medium | 2 to less than 3 |
| Medium to High | 3 to less than 4 |
| High | 4 to less than 6 |
| Very High | 6 or greater |

Source: FSC/ASFA Standard Risk Measure Guidance Paper for Trustees, July 2011
We have adopted these risk rating guidelines and applied them to our products, as highlighted in Figure 2: InvestSMART Group Investment Products' SRM: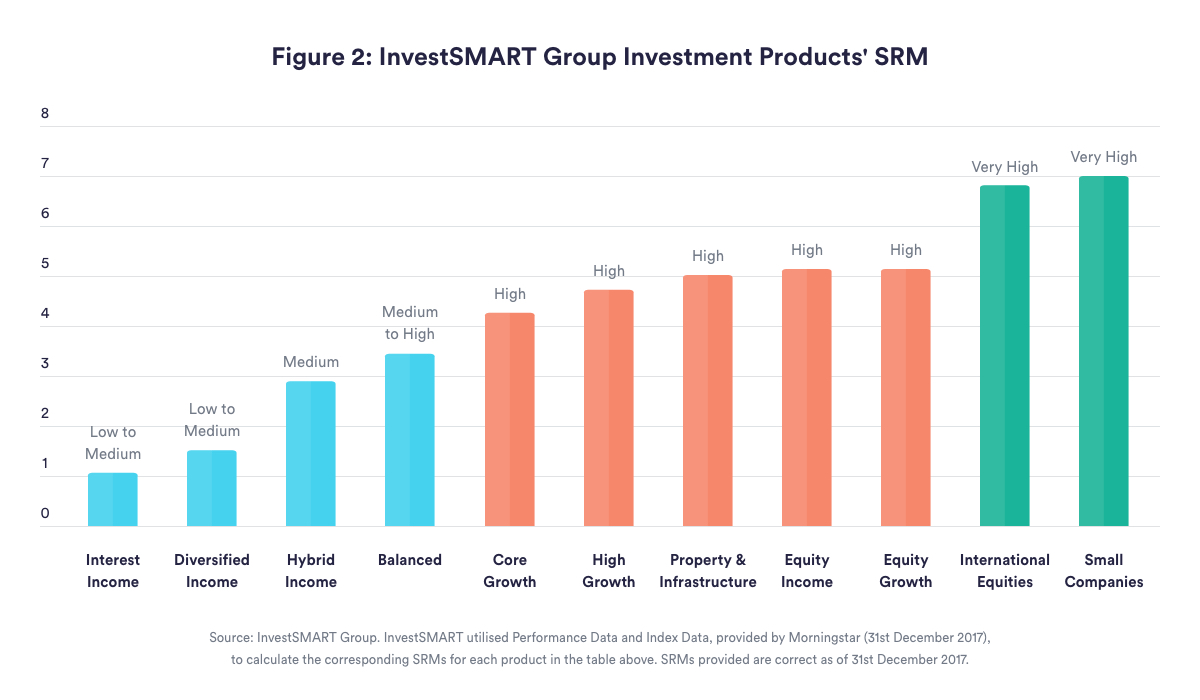 It should be noted, however, that the SRM is not a complete assessment of all forms of investment risk. For instance, it does not detail what the size of a negative return could be or the potential for a positive return to be less than a member may require to meet their objectives. As such, it should be used as a guide and as with any investment, investors should ensure they are comfortable with the risks and potential losses associated with their chosen investment option(s). Any information should be considered general in nature and before making any investment decisions, please ensure that you read all relevant disclosure documents related to that product.
What are InvestSMART's investing principles?
Diversification
We recognise that over the long term not one asset class is guaranteed to deliver substantial outperformance on a consistent basis and that attempting to time the turning points across the various asset classes is near impossible.
Lower Fees
Compounded over time, even a small difference in fees can result in substantial differences to your return and a higher management fee is no guarantee of better performance.
Transparency
We believe in absolute transparency. This directly impacts how we manage conflicts and report our performance. We take disclosure, conflicts and transparency extremely seriously.
How long does it take for my cash to be invested? Do you buy the portfolio holdings over time?
The day after your funds have settled your portfolio will be rebalanced. This means all the necessary shares will be purchased to bring the portfolio in line with your chosen model/models.
What is a Professionally Managed Account (PMA)?
Under our Professionally Managed Accounts, you will gain the following benefits:
1. Professionally managed investment portfolio: An investment portfolio managed by InvestSMART's investment team.
2. You own the securities: The investor holds legal ownership and the underlying securities are registered under your name.
3. Reporting: Complete end of year Accounting and tax reporting is provided on your investment.
4. Transparency: Investors are provided full visibility of all stocks held in your portfolio.
5. Tailored & Unique Portfolio: Under a PMA, we offer multiple model portfolios to choose from so that you can create a customised and diversified portfolio to suit your individual needs. Our model portfolios will differ in the levels of risk and return, and each model offers a different investment emphasis (such as Australian & international equities, property securities, international ETFs, etc).
6. Account Management: The paperwork and administration is taken care of, reducing the administrative burden on investors.
7. Tax effective: You only pay tax on gains & income you received.
8. Inflows & outflows: Your investment will not be impacted by the decisions of other model portfolio investors. An example of this is when a pooled investment like a managed fund receives redemption requests at the bottom of the market and is a forced seller at the worst time.
9. Flexibility with income/distributions: Choose to receive the dividends directly into an account of your choice or set up a regular payment or request drawdowns on an adhoc basis.