The death of yield?
Holding a term deposit right now is not much better than keeping cash under the mattress. Even with that extra mattress protector of a government guarantee.
Cash in the bank is guaranteed by the Australian Government up to $250,000 per Authorised Deposit-taking Institution (ADI). Across banks, building societies and credit unions, your money is in safe hands. If something happens to the ADI, the Australian Government has got your back.
That initiative was introduced by the Rudd Government at the height of the Global Financial Crisis. It was more than welcomed by investors, who rushed towards money markets. It's not a stretch to say, at times in the years that have followed, we've witnessed somewhat of an investor stampede. In the post-GFC world, our appetite for cash yields has only gotten stronger and stronger.
Breaking the wall of cash
Term deposits are 'rest easy' guarantees. When the proverbial hits the fan, there's a silver lining. Silver is nice, but what about the rivers of gold? Whether rates are lower for longer or lower forever – no one has a crystal ball –the fact of the matter is, right now, there's no gold to be found in term deposits.
Panning for gold in money markets is now a pointless pursuit. And with every downward cash rate move, it only becomes harder for investors to move upstream.
Just shy of a decade ago, one major bank was offering term deposits paying 8%. When that super sweet and limited-time-only deal matured five years later, investors faced a dilemma. Dive into risk assets and risk dangerous splashback when markets inevitably correct, or go about business as usual with another term deposit offering a rate of return cut back by a third?
In 2019, it's even worse. Most term deposits are paying less than 2%, barely keeping pace with inflation.
But we keep signing up for more. And really, who can blame people? Everyone wants to sleep easy at night. Especially self-managed super fund holders, who understandably don't want to roll the dice on hard-earned portfolios.
The chart below shows the total amount of money invested in cash and term deposits declared to the Australian Tax Office. At the end of Q1 2019, SMSF holders had $17.1 billion invested in cash and term deposit products. No rivers of gold, just a wall of cash.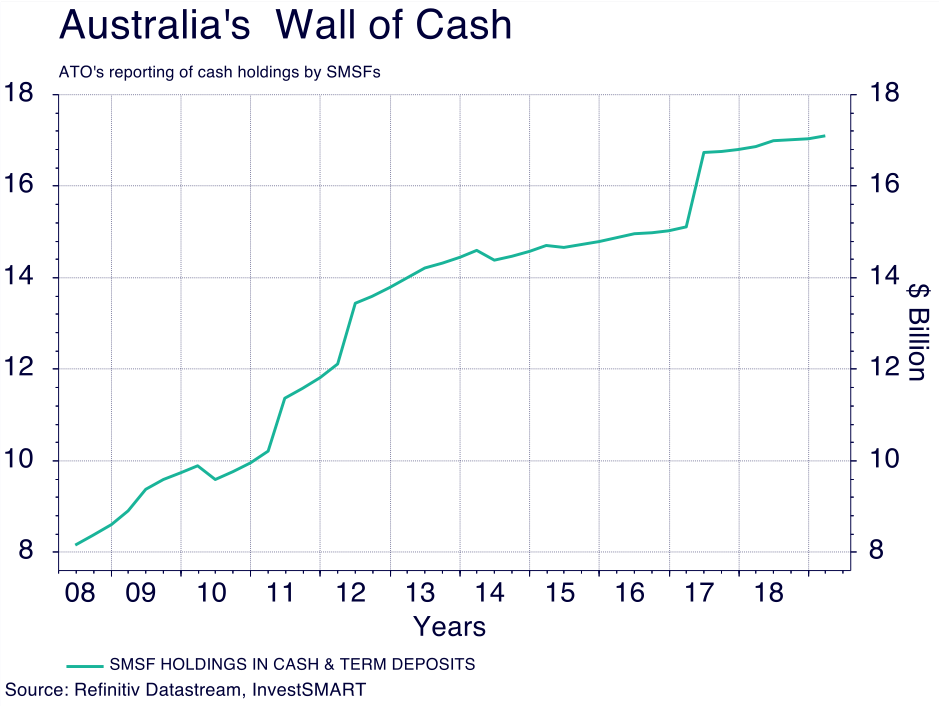 However, we should highlight that figure from the ATO was released before the latest rounds of rate cuts from the Reserve Bank of Australia to the official cash rate.
The RBA has stripped 50 basis points, or 0.5%, off the cash rate since June 2019. That means 50 basis points off the average term deposit at the same time.
Australian savers now face record all-time lows in term deposit yields. It's always a bad time to hoard cash under the mattress, now it's doubly a bad time to simply be a saver.
The following bar chart shows the current range of Australian term deposit rates. If we're being honest, they make for pretty bleak reading.

Right now, a 2.15% per annum return is the best on offer.
If you were to put $50,000 into a 1-year term deposit, your total return would be $1075 at maturity.
If you fancy having a cuppa out every now and then, this would hardly be enough to cover your habit. What's more, 2.15% isn't even your 'real' return for the year.
Let's get real
Remember, inflation will increase over the same period. Core inflation in Australia, which is inflation excluding food and fuel, is currently tracking 1.6% year-on-year.
So, $50,000 in a 1-year term deposit of 2.15% less inflation of 1.6% means your $1,075 becomes $275 in real terms. Things just got a little too real.
If that isn't painful enough already, there's another way to look at it. Let's take the average 12-month and 3-month term deposits on offer, adjust for inflation, and you have a medical-grade flatline.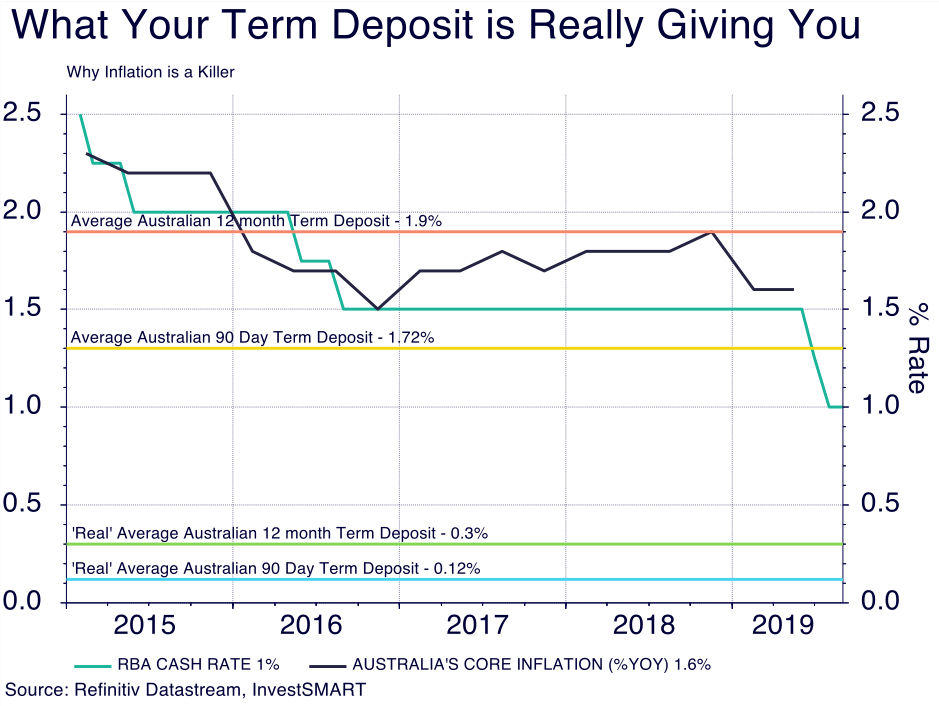 'Real' annual returns are barely above water. And Australian savers must brace for the worst, with the RBA forecasted to cut rates again in the next 12 months.
If banks slashed their term deposit rates again by the same margin, then your real rate becomes even more damning. For argument's sake, let's say the RBA cuts the cash rate by another 25 basis points (0.25%) to 0.75% and the banks follow suit to reduce all term deposits by the same measure. The average 12-month rate would fall to 1.65%, and the average 90-day rate to 1.47%.
Don't forget about inflation (it won't forget about you). The real 12-month rate becomes 0.05%, and the 90-day rate becomes -0.13%. Your money actually declines in real terms. That's a proper flatline.
How to revive your returns
There are relatively safe ways to revive your rate of return.
If you're rolling over your term deposit and you intend to keep doing so over the coming five or more years, then it might be in your interest to move into a more balanced investment vehicle. A balanced vehicle would have an even split between defensive and growth assets, with both yield and capital growth.
One such example is the InvestSMART Balanced Portfolio which has exposure to Australian and international shares on trailing yields of approximately 4.95% and 2.34% respectively. The InvestSMART Balanced Portfolio also holds cash and fixed interest to counterweight the risk of holding equities. The fixed interest in the portfolio has a trailing yield of 2.23%, but being true fixed interest, it has capital gains as well.
The InvestSMART Balanced Portfolio is designed to perform in good times and bad. It's designed to give you better returns in an appreciating market, while providing a buffer with its defensive components.
Since inception, the InvestSMART Balanced Portfolio has returned an average of 7%, with an average yield of 3.2%. These are promising figures in an environment where your yield could alternatively fall to zero over the coming years.
Click here to see how the average balanced fund performs during periods of market volatility and click here to read Paul Clitheroe's thoughts on balanced funds.