It has been a difficult 18 months for all of us; to put it lightly
Lockdowns continue across much of the country and now that the novelty of baking banana bread has worn off many of us have used the time to take stock of our finances, something that previously struggled to fit in busy schedules.
Flicking through various bank statements it is evident that my spending habits have changed.
Small luxuries we took for granted like a trip to the cinema, tickets to a concert or an after-work drink with colleagues are expenses that don't exist in the current climate.
And it isn't just the fun expenses that have gone for the moment with no need to fill up the car, pay tolls or public transport fares to get from point A to point B.
It is the COVID-era version of forced savings.
So how do we take this lemon and make lemonade?
It would be easy to leave excess savings sitting in the bank account; it is safe and can be called upon at a moment's notice but with interest rates at historic lows and inflation creeping higher it is not without drawbacks.
What about investing? What about investing for your kids?
Check out our recent series explaining inflation: Part One – Part Two – Part Three
Investing is the other option and comes with a disclaimer; whether you are investing conservatively or aggressively it will have an associated level of risk but also the potential for reward.
Parents have begun to look ahead and consider investing savings for their children not only to help them as adults but due to their age they generally have a large amount of time on their side for it to grow.
Using the InvestSMART Wealth Calculator we can see that investing $10,000 for a child today could result in a portfolio of around $19,000 for them in ten years' time.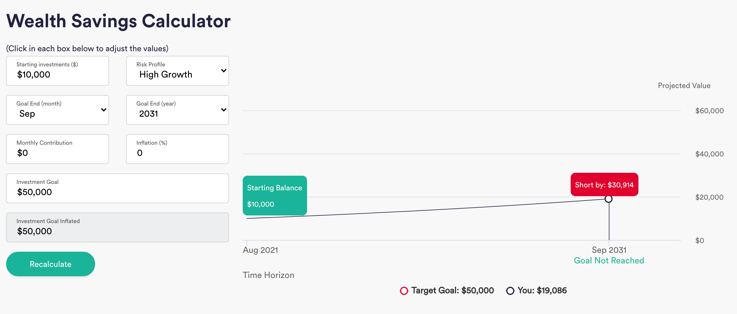 If you were to add just $200 in contributions per month it is estimated that the portfolio would value in excess of $53,000 over the same time frame which is the power of compounding at work.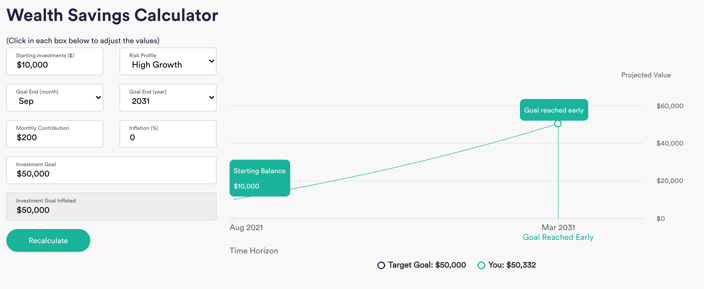 InvestSMART offers a low-cost investment platform for parents and children which you can read about here