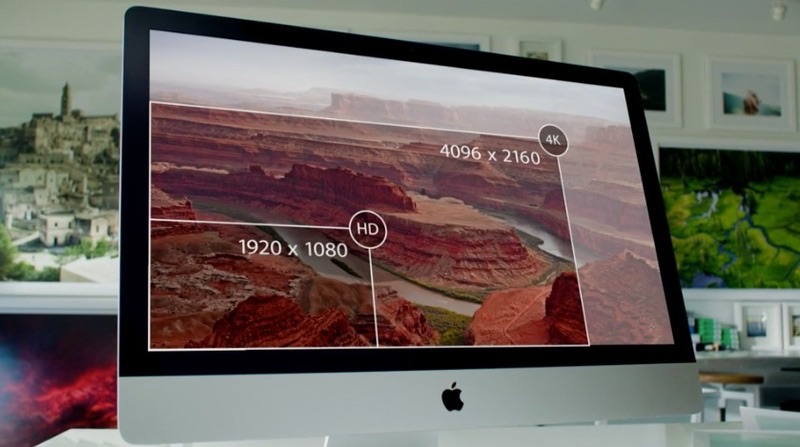 Apple's success in the mobile space is well documented, but the company has been kicking goals in the ailing PC market as well. Despite the contraction of the PC industry, Mac sales have gained global market share for 32 of the last 33 quarters.
Mac sales grew by 21 per cent in the most recent quarter while overall PC sales declined by 1.7 per cent. Apple's record high success has, for the first time, propelled the company to number five among the top PC makers.
Apple is hoping to build on the momentum with an unrivalled 5K (5120 x 2880 pixels) resolution Retina display iMac, which coincidentally arrives 30 years after the first Mac. There's a refresh on the software front too with OS X Yosemite that brings about a host of new features, most notably, the ability to seamlessly move between your Mac, iPhone and iPad.
So does the glorious 5K display redefine the desktop experience?
The gold standard of displays
Apple set the standard for pixel dense displays when it introduced the iPhone 4 in 2010 followed by Retina iPads and Macbook Pros in 2012. At the time, they were the highest resolution displays within their respective categories and Apple has set the benchmark once again, this time on the desktop with an absolutely jaw dropping 5120 x 2880 pixels spread across a 16:9 27-inch diagonal panel.
The 5K Retina is the world's highest resolution display boasting a total of 14.7 million pixels. For context, that's seven times as many pixels as a HDTV and 67 per cent more pixels than a cutting-edge 4K screen.
While the numbers might sound impressive, the only way to truly appreciate a screen like this is to view it in person.
The first thing that stands out about the display is the lack of visible pixels, which is something that could not be said about the 2560 x 1440 panel on last year's iMac or even of 4K resolution monitors. Content onscreen remains razor sharp and blur free no matter how close you get to the 5K display, let alone the two feet distance that most will be viewing a monitor of this size.
Apple has nailed the scaling so that you get the clarity of a 5120 x 2880 panel while ensuring everything onscreen renders at exactly the same size as what you would see on a 2560 x 1440 resolution display. The difference is that the Retina display shows a square of four pixels per point instead of one, resulting in four times as much detail.
There are exceptions, such as, when editing 4K video in Final Cut Pro - the iMac will automatically show the footage at full resolution, with space left for timeline and asset windows, which is a boon for content creators. Similarly, high res images will be shown pixel-for-pixel with space to spare for editing tools.
Text looks like a printed page while high resolution photo and 4K video is brought to life with an incredible level of detail and sharpness. It's the type of display that will make you want to dig out your collection of DSLR pictures and view them in all their detailed glory. Whether it's marvelling at the impeccable detail of the crevices of an expansive mountain landscape or admiring the finer details of a flower head in a macro shot, the pixel dense display brings to light details that would otherwise go unnoticed.
But Apple didn't just throw in more pixels and call it a day. Colour accuracy, contrast, brightness and viewing angles are also a class above.
Colours are vivid and lifelike that stay true regardless of the viewing angle and Apple's use of a new photo alignment process has significantly improved the contrast levels over last year's model.
High density displays normally struggle with poor illumination - not so with the 5K iMac thanks to the use of new power-efficient LEDs that not only provide the same level of brightness as last year's model, but also consume 30 per cent less power.
Apple has also designed its own timing controllers, or TCON, to ensure all 14.7 million pixels are refreshed at 60Hz. Apple claims that there are 23 layers of display technology packed inside the 1.4mm-thin frame of the Retina 5K iMac.
It's worth noting that Windows does not run at the display's native 5K resolution - booting into Windows 8.1 on the iMac results in a 4K (3840 x 2160) display resolution. Hopefully a driver update will rectify the issue in the future.
Ultra thin with impressive performance
Physically, the 5K iMac is indistinguishable from last year's model and we're perfectly fine with that.
Apple introduced a new thinner iMac design two years ago and that same 5mm edge profile is maintained here. The fact that Apple was able to cram in a 5K resolution display into the already svelte body of an iMac is quite remarkable. The chassis and stand, which also doubles as a cable management aid, uses the same aluminium material from Apple's notebook line.
Operationally, the iMac offers tilt adjustment but the stand is otherwise fixed so the height cannot be adjusted or swung around and used in portrait mode like some other monitors on the market. You do, however, have the option of removing the stand and installing a $50 VESA Mount adapter kit which would allow the use of VESA compatible stands and also provide a wall mount option.
Of course, there's also a full-blown computer inside that stunning panel and there is a bulge on the back to accommodate the various high-end components that you would normally find on a desktop replacement notebook.
The iMac comes standard with an Intel Haswell 3.5GHz quad-core i5 processor, 8GB of RAM, 1TB Fusion Drive (a hybrid of flash storage and a traditional rotating hard drive) and an AMD Radeon R9 M290X with 2GB of video memory.
The 5K iMac can be kitted out with a faster 4.0GHz Intel Core i7 processor, 1TB of flash storage, 32GB of RAM and beefier graphics with an R9 M295X and 4GB of video memory. It's probably wise to overshoot a little when it comes to shopping for an iMac as, aside from the RAM, they cannot be upgraded after purchase.
We tested the standard base model iMac and it hummed along without breaking a sweat. The machine remained whisper quiet regardless of whether we were using it for general productivity, web browsing with 20 tabs open or even while watching 4K movie trailers.
We were never left wanting in the power department except when gaming. Although this is forgivable given that there's no GPU on the planet that can run the latest games at 4K resolution with all the graphical settings turned to maximum let alone at 5K. We were, however, pleasantly surprised at the performance of slightly older games like Tomb Raider, Grid 2 and Bioshock Infinite once we dropped down the resolution to 4K and kept most settings turned to high which yielded a consistent 30fps. Shelling out the extra $300 for the souped-up R9 M295X discrete graphics should make for a competent gaming machine though we would have liked to have seen an option for the more powerful Nvidia GeForce 980M.
Of course, the selection of titles on the Mac still pales in comparison to what is on offer on the Microsoft side so be prepared to boot into Windows if you plan on doing some serious gaming.
Apple's desktop products have always been geared towards creative professionals and this is where even the base model iMac shines.
The iMac chewed through editing of 4K video in Final Cut Pro, applying demanding effects in real-time without so much as a stutter. We couldn't fault the iMac's performance when editing RAW image files in Photoshop either.
The iMac comes well equipped when it comes to ports with 4 x USB 3.0, SD Card reader, Gigabit Ethernet and two ultrafast Thunderbolt 2 ports that enable connection to high-speed peripherals like RAID arrays and external hard drives. Thunderbolt 2 also doubles as a Mini DisplayPort and the iMac has enough power under the hood to run an additional external 4K display for a dual monitor setup.
One area of disappointment is that unlike earlier iMacs, you can't use the 5K Retina screen as an external display so those hoping to connect their laptop or even Apple's own higher-end Mac Pro are out of luck.
OS X and iOS merge with Yosemite
The Retina display iMac comes with Apple's latest desktop operating system, OS X Yosemite.
Visually, Yosemite takes on a flatter iOS-inspired design with fresh icons and translucent windows that make things consistent across the Apple ecosystem.
Useful features from iOS 8 also make their way to OS X such as the expanded Today view in the Notification Centre, which can be accessed at any time with a simple swipe gesture of the trackpad and is completely customisable with widgets from the Mac App Store. Spotlight search is much improved and now provides rich previews in addition to the ability to look up information from Wikipedia, Maps, Bing, iTunes and even convert units and currencies without ever leaving the desktop.
The real killer feature of Yosemite, however, is the ability to make and receive calls on your Mac (using the built-in speakers and mics as a speakerphone), as well as send and receive SMS and use your iPhone as an auto-connecting hotspot. You can also seamlessly jump between desktop and mobile device with 'Handoff' which enables you to start a document, email or browsing session on your iPhone or iPad and pick up precisely where you left of on your Mac.
Provided all your devices are signed into the same iCloud account, connected to the same Wi-Fi network and Bluetooth is enabled, this feature works seamlessly.
Being able to make calls from your Mac by simply right clicking on any phone number is very handy. We also liked how incoming calls showed up with the entire caller id complete with a contact picture.
Handoff, for the most part, worked well but we did notice some delay with document loading in Pages when bouncing between devices and often our iMac or Macbook Pro would show an older version of the same document with no signs of updating. It suggests that Apple's iCloud servers aren't quite yet up to speed.
Of course key desktop features like Continuity and Handoff simply won't work if you don't own an iDevice. If you use an Android phone or a competing cloud service such as Google Drive or Microsoft's OneDrive, then these features will offer next to no benefit. On the other hand, it's a compelling reason for existing iPhone and iPad owners to invest in a Mac for their next desktop or notebook.
The display that makes desktops relevant again
It's impossible not to be impressed with the 5K Retina display on the iMac.
A display of this calibre is a dream to work on for any content creator while everyday users will be drawn to the higher resolution display for its ability to make everything they do onscreen look significantly better in addition to the bigger workspace on offer.
The iMac is not only the best computer monitor on the market but it's also the best all-in-one desktop you can buy right now. While it isn't exactly cheap at the starting price of $3,000, the 5K Retina iMac offers tremendous value for money when you consider that pro-grade 4K IPS panels like the Asus PQ321Q retail for well over $3,000 for the monitor alone.
We don't expect the iMac to be beaten on price anytime soon either. While Dell is expected to release a 5K monitor (UP2715K) early next year, it will hit stores with a $3,000 price tag.
And let's not forget, the iMac isn't just a gorgeous 5K monitor - it's also a powerhouse of a computer even at the base model.
While the Retina 5K iMac is unlikely to reverse the unfortunate decline of the PC market, it does offer consumers a truly compelling reason to invest in a desktop once again.