Our CEO invests $1 million - His first quarterly update
A few months ago, our CEO shared a series of emails with members about where he and his wife had invested $1m and why. It has now been over three months since so he thought it would be a good idea to show you how they are going.
A few months ago, I shared a series of emails with members about where my wife and I invested $1m and why. It created lots of interest (see part 1 here) and requests for regular follow-ups.
Well, here's my first quarterly update, starting with a screenshot of our Dashboard below. It shows the product we're invested in - the InvestSMART Balanced Portfolio – and the asset class breakdown: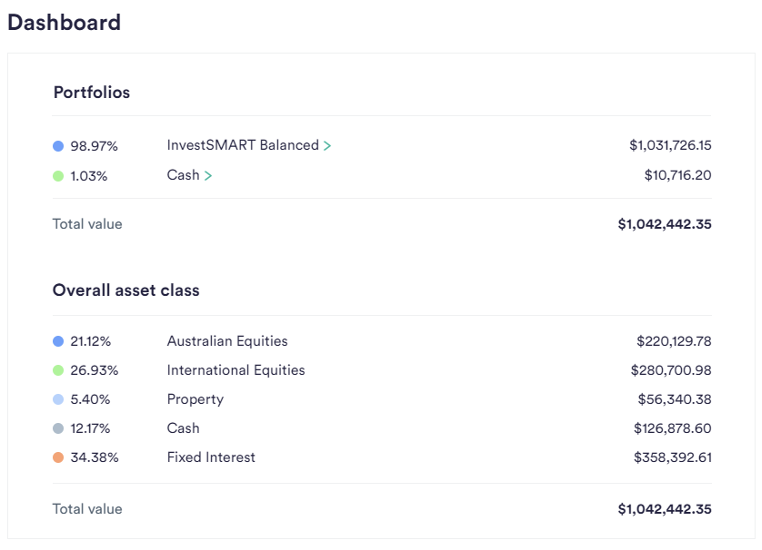 Over the past 3 months, it's performed pretty much as expected, ending the quarter to 30 September 2021 up 1.98%, as the chart below shows.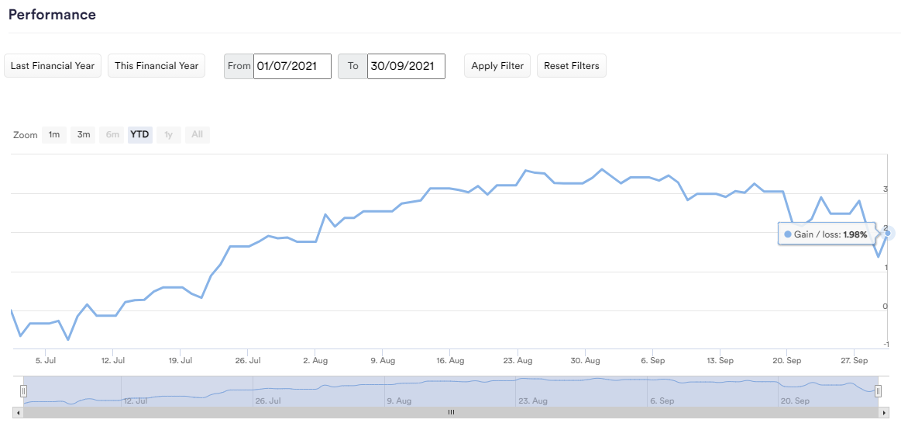 Performance is relative, though. It pays to compare this figure to other similar funds, although you must be careful about timeframes. Quarter-to-quarter performance doesn't mean much, which is why the charting function in the Dashboard allows you to set varying timeframes.
InvestSMART Balanced Portfolio is benchmarked against the Morningstar Aus. Msec Balanced TR AUD index. The InvestSMART website has all the details and aggregates the performance of all other funds using the same benchmark. Here's the table:

Did you notice the discrepancy? My wife and I got a return of 1.98% for the quarter on our Balanced Portfolio but InvestSMART reported 1.88% over the same period.
The difference is explained by the fees. For reporting purposes, InvestSMART calculates fees of 0.55% p.a. on all portfolios based on a minimum $50,000 investment. But this fee is capped at $451 for investments above $82,000.
On a $1 million investment, my wife and I pay just $451 a year rather than $5,500 (0.55% of $1m). As a result, the performance of our portfolio will always be better than that reported on the InvestSMART website. And, as our portfolio grows, our fee as a percentage of the portfolio's value will get even smaller.
This is the value of a fixed, economical fee. We start the next year with an extra $5,049 that would otherwise be lost to fees. Through compounding over the years, this really adds up.
One of the attractions of investing through the InvestSMART Professionally Managed Account platform is the ease of opening an account, adding and withdrawing money and setting up an automatic contribution plan.

In the coming years, we hope to increase the $5,000 monthly contribution as we near retirement, the kids finish school and we have more money to salary sacrifice. That's an easy thing to do in Investment Preferences: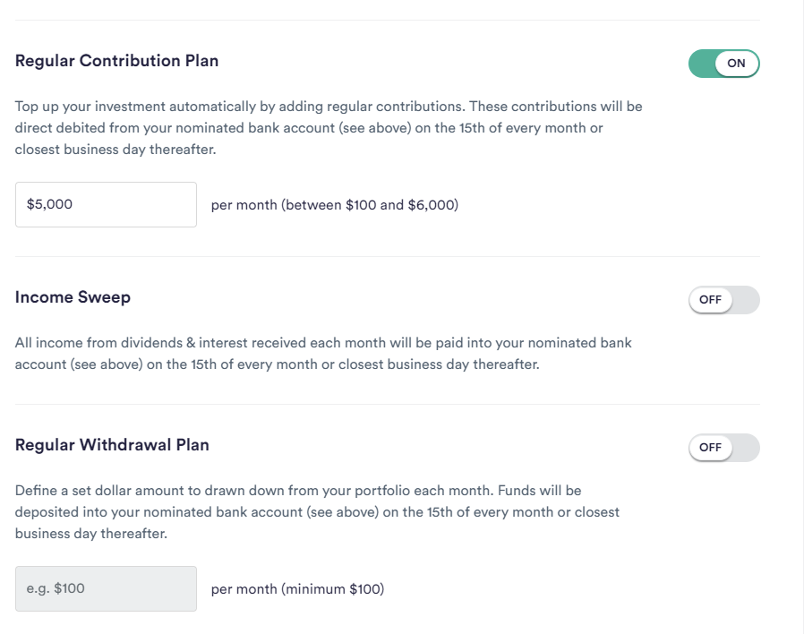 During the quarter, we changed the bank account from which our monthly contributions are deducted. Security is vital so it was reassuring to see three levels of authentication; account login; entry of bank account details; and mobile verification code.
We're happy with our balanced asset allocation for this investment and have no plans to change it given our investments in direct shares, the main one being InvestSMART itself (ASX: INV). I'm a strong believer in investing in yourself (via education) and your own business before diversifying into other asset classes but that's just me - others may feel differently.
Incidentally, my wife uses our new Corporate Alerts function to get all INV announcements, so she doesn't have to ask me how our stake is going over dinner. If you are interested in getting these alerts, you can join up here. We are hoping to introduce this free service for all ASX-listed companies soon which we will announce in InvestSMART Insights.
Until next time happy investing.
Links to the original series:
https://www.investsmart.com.au/investment-news/a-personal-anecdote-part-1-why-our-ceo-invested-1m-at-market-highs/149961
https://www.investsmart.com.au/investment-news/a-personal-anecdote-part-2-how-did-i-invest-keeping-it-simple/149966
https://www.investsmart.com.au/investment-news/a-personal-anecdote-part-3-where-my-wife-and-i-invest-1m-and-why/149973
https://www.investsmart.com.au/investment-news/qanda-from-ceo-invests-1m-series/150003