Is the RBA draining your retirement income?
Income is becoming harder to find now the RBA has slashed the cash rate and it's making the average term deposit look grim and could get grimmer. So, just how grim are they?
This chart shows the average term deposit rate over the last twenty years.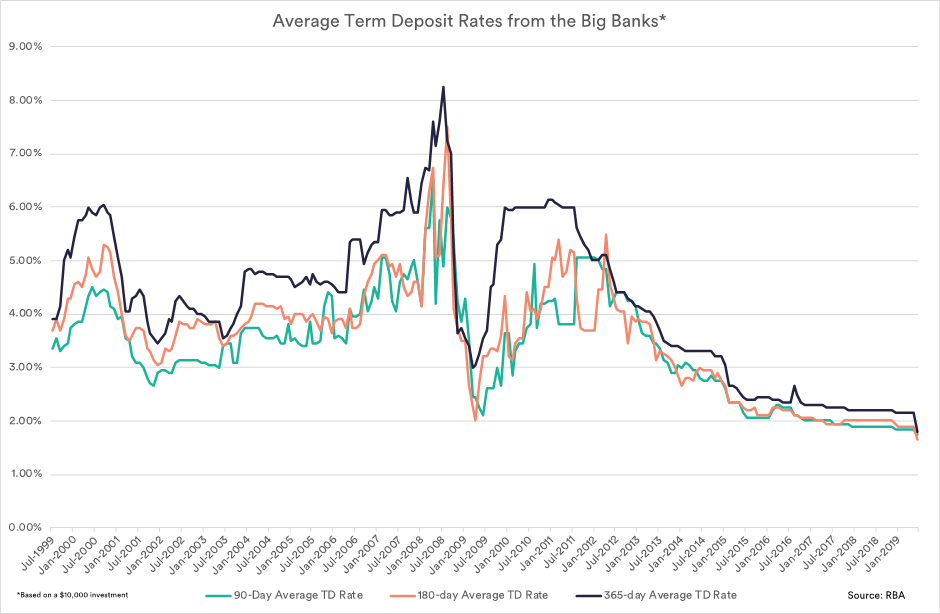 Looking on the InvestSMART term deposit filter the best rate available is from ING Direct at 2.35% for a term of one year. But what is the real return? When you adjust the rate to cover inflation your "real rate" is just 0.55%. No wonder we have started to see a spike in interest for our other income related products such as the InvestSMART Hybrid Portfolio and Diversified Income Portfolios.
Before we discuss the options, it is important for people to understand that most other income products are not true alternatives for term deposits. Each additional percent of income you reach for will likely mean taking on more risk. Term deposits are government guaranteed up to $250,000. Outside of government bonds these are the only risk-free investment options, everything else carries higher risk but potentially higher returns.
The InvestSMART Hybrid Income Portfolio
Hybrid securities are like a loan, where banks and companies borrow money from investors at a specified interest rate until some date in the future. Why are they called Hybrids, because the Bank or Company under certain circumstances can pay the loan back via shares rather than cash, even though this is uncommon it can happen from time to time. Hence, hybrid securities are a type of investment that have elements of both debt and equity.
The InvestSMART Hybrid Income Portfolio has returned 5.49%pa since inception. The goal of the portfolio is to return 3% above the RBA cash rate.

Lending money to a Bank or company generally pays better interest than a term deposit but comes with greater risk and is not guaranteed. However, we believe we mitigate these risks by investing in a portfolio of 10 - 20 hybrids with different banks and companies over different loan timeframes.
An Australian first - Capped Investment Fees
Our research has highlighted even the smallest different in fees can result in substantial differences to your income overtime. As such, we have capped our fees to put more money back in your pocket.
Keeping fees low is core to what we do and there is a simple reason for that, fees eat away at your returns. While 1% doesn't sound like much, consider its impact on an income portfolio producing 4 – 5%pa.
That is 20 – 25% of your income being taken up in fees.
That is why we are happy to say the InvestSMART Hybrid Income Portfolio is part of our capped fee range where we charge 0.55%pa capped at $451pa no matter how big or small your investment. Click here to view the whole capped fee range.
Cash flow and franking credits
Focusing on the cash flow, the bulk of the holdings in the portfolio pay distributions every quarter. The Professionally Managed Account structure is flexible and gives you four options to receive this:
Monthly Income Sweep: At the end of each month the income from distributions and interest is added up and paid out to an account of your choosing. Some months will be higher than others given the distribution schedules of the hybrids
A regular draw down plan: Set a dollar figure you want drawn down each month. Handy if you are taking your living expenses from the portfolio
Adhoc withdrawals: Request any dollar value from the portfolio as and when you need it
Leave in your portfolio to compound: The distributions will go into the cash component of your portfolio and reinvested when next rebalanced
What about franking? The portfolio is currently 80% franked. You will be able to claim the franking credits when you complete your annual tax return with the tax statement we provide.
To learn more about this portfolio, download the product disclosure statement and check out the portfolio homepage where you can apply online in 5 easy steps.