Beat retirement debt
Retirement should be our golden years, and they can really sparkle if you exit the workforce with as little debt as possible.
But a worrying statistic from the latest HILDA survey, shows one in five Australians are heading into retirement with a mortgage still in place. If that sounds like you, it can be worth thinking about ways to tackle retirement debt.
Why we're heading into retirement with a home loan
As the graph below shows, back in 2006 it was rare for retirees aged 64-plus to owe money on their home. But things have changed. These days, almost one in five (17.2%) retirees aged 64-67 have a mortgage, compared to just 2.2% 15 years ago.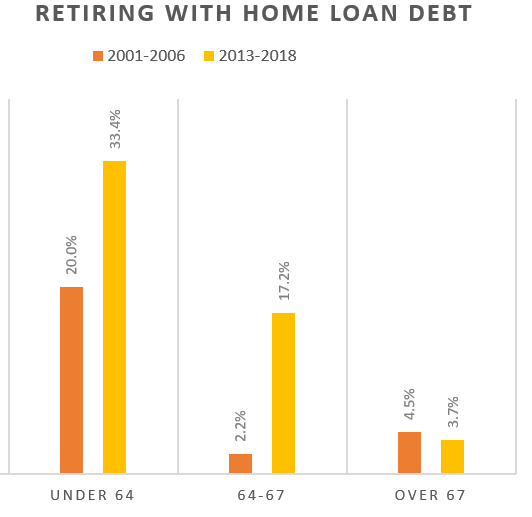 Source: HILDA statistical report 2020
So what's going on? Well, we all know the challenges first home buyers can face around property affordability. What's less well-known is how this issue can spread further down the line. As home prices go up, you need a bigger deposit. It takes longer to save that deposit, so you're older when you buy your first home. And that means you have fewer working years to pay it off.
What about super?
We also know that more Australians are retiring with healthy super balances. And some pre-retirees may choose to focus on growing their super rather than hacking away at their home loan to pay it off sooner.
Is this a smart strategy? I have to admit I'm a big advocate for retiring with as little debt as possible. The catch is that because interest rates are so low, the savings you can make by paying your mortgage down early only work out to the equivalent of about a 3% return after tax.
When you put money into super, the contributions are taxed at just 15%, and a good balanced fund can return around 7-8% annually.
There's a lot to weigh up, and this is an area where professional advice can help you decide which works better for you – growing super or fast-tracking your way to mortgage freedom.
Steps to manage retirement debt
The problem of retirement debt can be more challenging when there's not a big difference between the balance of your loan and the size of your next egg.
The HILDA data found that among retirees aged 64-67, the average mortgage is worth $177,062[1]. Yet among men aged 60-64, the median super balance is $178,808, or $137,051 for women[2]. These numbers suggest some households could be left with pretty lean nest eggs if they use super to pay off their home loan. Fortunately, there are some steps retirees may want to look into to make the situation more manageable.
1. Keep your hand in the workforce
If you're eligible for the age pension, single retirees can still earn up to $180 per fortnight, or $320 for a couple combined, before your pension payments are impacted[3].
2. Consider the Pension Loan Scheme
The Pension Loans Scheme (PLS) works a bit like a reverse mortgage. You effectively take out a loan with the federal government, secured by your home. You may be eligible for the regular pension plus a PLS worth up to 150% of the maximum fortnightly pension. Self-funded retirees can get the whole 150% of the pension as a loan[4].
At present, the PLS is paid in fortnightly instalments, but from July next year it will be available as a lump sum.
There are catches. The PLS comes with an interest rate of 4.5%[5], and the earlier you take up this option, the more you could end up owing. As a guide, a retiree who takes out a PLS loan for $195,000 paid in $750 fortnightly instalments, would owe $246, 430 after 10 years. This includes $51,430 in compound interest accrued over the 10-year term[6].
3. Shrink your home, grow your super
From July next year, the downsizer super contribution will be available for 60-year olds, down from those aged 65 today. It can be a great way to use home equity to boost your retirement savings. I realise that paying stamp duty on a new home can be the deal breaker for many retirees. However, a smaller home should mean lower maintenance costs, which can help to compensate for stamp duty over time.
Retirement planning can be complex, and it's worth stressing that good advice can help you make the decision that's right for you.
Effie Zahos is an independent Director of InvestSMART, money commentator at
Canstar.com.au
and Channel 9 Today Show.
---