A walk through the halls of this month's Consumer Electronics Shows in Las Vegas revealed more smart devices than ever. From smoke alarms and sprinkler systems to coffee machines and cooktops, every household appliance aspires to join the smart home revolution – but there's a long road ahead.

The idea behind all these smart devices is to make your life easier, but this isn't necessarily the case when you need to reach for a different smartphone app in order to control each appliance in your house. Smart devices are most practical when part of a wider smart ecosystem, but it's difficult for shoppers to choose a camp when there are so many fiefdoms in the smart home world.

The 'Big Four of IOT'
In the long-term there are four major powers vying for smart home domination; Google Nest, Apple HomeKit, Samsung SmartThings and Microsoft HomeOS. Right now each is forging alliances, establishing ecosystems and wooing gadget makers in an effort to establish itself as the de facto smart home standard over the next few years.

In the short-term it's individual brands which are making headway with consumers – taking the pain out of smart home integration by making the concept more flexible and affordable than traditional custom installations.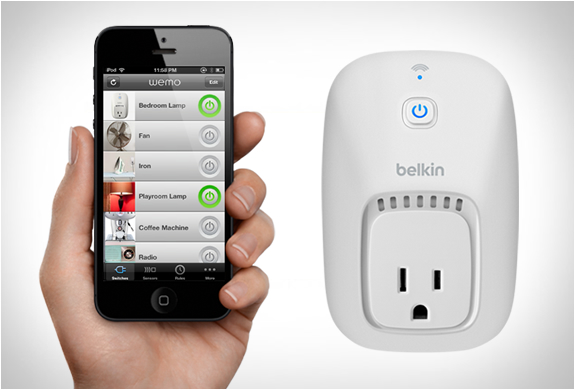 Belkin WeMo: Smart power switches for your smart home
Belkin's off-the-shelf WeMo ecosystem is a strong example. What began as smart power switches controlled by an Apple/Android app has expanded to include light switches, light bulbs, motion detectors, baby monitors and webcams. An extended range of third-party WeMo light bulbs was on show this year at CES, along with new door, window and motion sensors. You'll even find WeMo-compatible air conditioners, coffee pots and slow cookers, along with the WeMo Maker kit which lets you wire up electrical devices like garage doors.

On their own, Belkin's smart light bulbs aren't as impressive as those from LIFX or Philips Hue but the WeMo ecosystem is more than the sum of its parts. Along with a breadth of devices, WeMo's strength is the backend intelligence which lets you schedule actions, trigger events and tap into powerful web services like 'If This Then That.' Expanding beyond home automation, Belkin has unveiled new WeMo Insight switches — water and electricity consumption monitors which make it easier to calculate the cost of running your devices.

This kind of tight integration offers a taste of things to come, but Belkin isn't alone in trying to be a jack-of-all-trades smart home player. A wander through the smart home section of CES 2015 revealed WeMo-esque ranges of smart sensors, adaptors and hubs from a wide spread of brands – some better known than others – including Bosch, Honeywell, Archos, Elgato, iHome, iDevices, Lowe's, Muzzley, Insteon and EasyDom.

Less prominent but perhaps more important was Samsung's range of smart sensors and adaptors, hidden away on its massive CES stand between the giant televisions and white goods. Samsung's smart home efforts are underpinned by last year's acquisition of the SmartThings home automation gateway – a move which mirrors Google's acquisition of Nest.

Of course Samsung has the advantage of being one of the world's major appliance manufacturers. It has vowed that 90 percent of its devices will be internet-enabled by 2017, with 100 per cent by 2020. Combine this with the SmartThings ecosystem and Samsung's smart home plans are certainly more ambitious than its consumer electronics rivals.

Cooperate not just compete
The smart home giants are managing to cooperate as well as compete. For example, Google and Samsung are two of the main backers of Thread – a new low-powered wireless protocol specifically engineered for the Internet of Things. Thread is pitched as yet another rival to the Wi-Fi, Bluetooth Low Energy (dubbed Bluetooth Smart), ZigBee and Z-Wave wireless standards employed by different smart devices.

Of course with every new protocol and partnership comes a new level of fragmentation, making it difficult for small-time hopefuls to gain traction. While your Samsungs and Belkins might be big enough to go it alone, many of the smaller players are pledging their allegiance to one of the smart home superpowers.

Apple's HomeKit was the logical choice for Munich-based Elgato, which has a background in Mac and iGadget accessories. Elgato's Eve platform offers a range of Bluetooth LE-based sensors to measure indoor air quality, temperature, humidity and air pressure, as well as energy and water consumption.

"We were already thinking about the smart home and a cloud-based system before Apple announced HomeKit," says Elgato PR director Lars Felber. "You don't want to reinvent the wheel when it comes to backend infrastructure like cloud services and security, so working with Apple's HomeKit was a good fit for us."

"Perhaps we could go it alone, but it pays to have friends in the smart home space. The best place for us is within the HomeKit ecosystem where we can concentrate on what we do best."

New alliances, new horizons
Other small smart home hopefulls are faced with a similar decision, but there is an alternative for niche players; the fledgling AllSeen Alliance. Based on Qualcomm's open source AllJoyn protocol, and controlled by the Linux Foundation, the AllJoyn framework lets smart home devices advertise their capabilities and collaborate with nearby devices.

The AllSeen Alliance has more than 100 members but, of the big four smart home players, Microsoft is the only backer. The AllJoyn protocol will be baked into Windows 10 – which could be an unexpected game-changer for the smart home space.

"The goal of AllSeen is to be format agnostic, essentially the glue that holds the diverse smart home ecosystem together," says Philip DesAutels, the Linux Foundation's senior Internet of Things director.

"Closed ecosystems might make sense in the early days of the smart home when integration is a challenge, but over time I think an open standard like AllSeen will win out. Most people are always going to have a mix of devices and technologies in their home – AllSeen interoperability gives people the freedom to buy best of breed devices rather than swearing their allegiance to specific vendors and brands."

That might seem like more than enough contenders in the smart home space, but there's more. Not to be outdone by Qualcomm, rival chip maker Intel has formed the Open Interconnect Alliance which is backed by Samsung, Dell, Broadcom and others. With such an abundance of players determined to wear the smart home crown, it seems the battlelines are drawn for another long and bloody format war.

Adam Turner attended CES as a guest of LG.