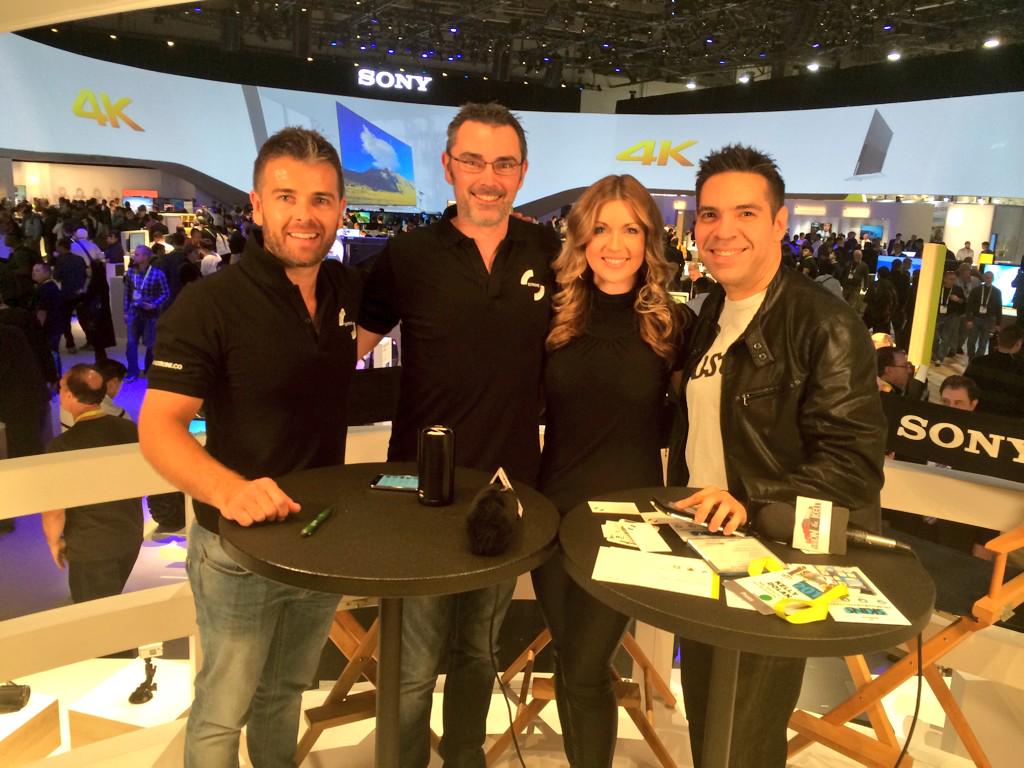 (From left )Paul Grant and Tas Tudor from Strone Technology at CES 2015. Source: Strone Technology
The International Consumer Electronics Show (CES) in Las Vegas is done for another year, with a gamut of start-ups, tech firms and 'booth babes' from around the world packing up their wares.
Some will be world-beaters, while others will be never heard from again. Strone, short for (STReaming your phONE), is aiming to be the former. It's a small, self-funded start-up from Melbourne that aims to solve a worldwide fear of bill shock.
The company's founder Tas Tudor made the trek from Melbourne's lattes to the glitz and glamour of the Vegas strip, navigating laneways not full of trams and graffiti but cutting-edge technology from some of the biggest companies in the world.
And that's no mean feat.
"As someone who hasn't been to CES before, it's big. It's really big," he says with a sigh. "The scale is just pretty unbelievable."
Cut through is the primary challenge, especially when you're up against crazy new experiments from the likes of established heavyweights Intel, LG and Samsung. This year's CES saw new 4K TVs, an Australian Netflix launch and new laptops from Dell and Asus, all of which dominated news headlines - and foot traffic.
Gimmicks and a broad accent
Tudor says cutting through the noise comes down to two factors -- gimmicks and a product that will make people actually sit down and listen.
The gimmick in this case was a Strone-branded version of Cardboard, Google's cheap and simple but surprisingly effective virtual reality gadget. Tudor said there's a chip in the cardboard that means anyone can watch a 3D version of their intro movie, but then also use it regularly well after CES is over.
CES-goers can take it away, take it to their office, and go and show 10 people who will not only talk about the Cardboard but also the company that handed it to them.
Another gimmick is Tudor's extroverted Australianism; something he says is an instant point of difference. Stall holders each have their own tactics, with some electing to sit and wait for people to come to them, or just idly standing next to their gadget but not greeting people. "You've got to be able to say g'day mate how are you, and at least get the conversation going," he says.
"But do you know what's working the best?" Tudor asks, already sure I'll know the answer. "It's our product. It's the solution. People are genuinely interested no matter who they are, because of the device.
That device is the Strone Home, a product that purportedly threatens to dismantle the one of the most controversial revenue streams for the telecom industry - roaming charges.
Banishing bill shock: The Strone Home: Source: Strone Technology
Strone Home is a black cylindrical piece of hardware that has a slot underneath for your SIM. The device captures the calls and text messages you're receiving and turns them into voice calls, meaning you can stream your phone to any other device - a tablet, another phone, or a laptop. Users leave the device at home in Australia, then travel sim-less, using Wi-Fi or a prepaid SIM to access their own phone's services, using their own phone number.
"It really is a radically different prospect when you have a fixed solution to roaming. If I'm going overseas I now know exactly how much it's going to cost," Tudor says.
He adds that eventually the Strone will work with connected cars, smartwatches and wearables, but for now it's just available for iOS, Web and Android.
Bill shock eye opener
Tudor was an accountant and it was a trip to Sri Lanka that opened his eyes to bill shock. His anxiety was so "horrendous" that he feared every phone call.
"I had to be in touch with my phone number when I was overseas, it was essential for business. But no matter which way I turned, I was going to either get bill shock when I got back, or be massively inconvenienced during my trip. I can't believe no-one had done something like this."
He asked his brother to join him to create the hardware and they, along with another set of brothers, quickly formed the core Strone team.
The start-up plans on expanding app to include home automation, for example connecting your phone overseas to smart gardening products, like those from Parrot, if you want them to water your garden while you're away. Those are lofty ambitions, but the company has to first succeed on the conference floor.
Surviving CES
So why spend thousands of dollars going to CES, what is there to get out of it?
Strone is trying to generate interest from distributors, and sign partnerships on site, with the aim of raising eyebrows of venture capitalist investors.
"We've had a lot of interest today from distributors," he says, after a full day on the floor. "And they're from all around the world. We've chatted with about 35 US distributors alone, and we've had 7 or 8 global sim card type providers come and see us."
"Our expectations have definitely been exceeded."
Tudor adds that he's had preliminary discussions with not only a number of distributors but also a venture capitalist, who has agreed to provide them with funding that will see them survive at least through the rest of 2015. While CES has been a big success for Strone, it'll be the rest of 2015 and the deals it manages to secure that will determine its future.
So what else should Australian businesses considering CES consider?
"You've got to do it properly," Tudor says. "Pre-plan everything. Make sure you've got enough people there, too. We had four people on our stand today and at times there was four of us engaging with different people. It is a big investment... so make sure you get it right.
"Make sure you enjoy it as well, but don't party too hard. We all fell for it last night at the launch party. You're here to do a job, so make the most of it. CES is too important for you not to."