InvestSMART Portfolios: 5 years in, concept confirmed
In the world of portfolio management, there are three key dates that matter to your mandate and investment thesis, 1- 3- and 5-year performance, the most important of these being the 5-year.
Why the 5-year is the most important timeframe is that five years is considered a 'cycle' in the market. In a five year cycle your portfolio should have seen falls, rises and possible market shocks. It, therefore, will have been 'tested' thoroughly and will confirm if the portfolio's thesis is not only sustainable, but can thrive.
This January, our diversified portfolios hit its 5-year performance mark. Our thesis has been to provide the correct level of diversification for those with risk profiles of 'Conservative', 'Balanced', 'Growth' and 'Assertive' (High Growth) at the lowest possible fee.
Even before the Banking Royal Commission, our research had shown that the biggest impactor on overall performance is the funds' fees. When you break this down, if you continuously take 1 per cent or more out of performance, it significantly impacts the compounding effects in your portfolio.
This is what we wanted to rectify. History has shown us that the average return of a Balanced portfolio is approximately 5 per cent per annum. Taking 1 per cent out of this annual performance is significant and as this chart shows, the underperformance it creates is glaring.
InvestSMART's Balanced Portfolio versus 'Balanced' Peers over five years.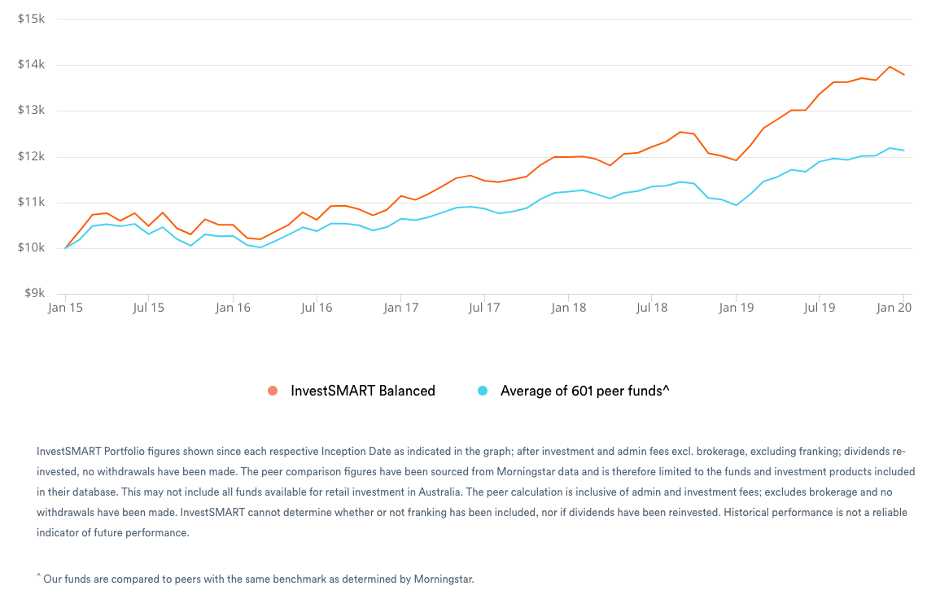 Over time the Balanced Portfolio is now outperforming our peers by over 13 per cent, a theme that is replicated in all four portfolios.
This confirms our portfolio concept of offering the 'market' with the lowest fees possible. It confirms our thesis that we can and will outperform our peers on performance over the longer term and it confirms that portfolios can withstand five years of market cycles.
So, here's to the past five years of performance and here is to the next five years, long may it reign.
Click here to view the InvestSMART capped fee portfolios.