{{ modelLanding.OverviewStat1 }}

{{ modelLanding.OverviewStatDesc1 }}

{{ modelLanding.OverviewStat2 }}

{{ modelLanding.OverviewStatDesc2 }}

{{ modelLanding.OverviewStat3 }}

{{ modelLanding.OverviewStatDesc3 }}
FAQs
Still deciding if InvestSMART is right for you? These frequently asked questions may help.
View more FAQs
What is the Standard Risk Measure?
The Standard Risk Measure (SRM) is a guide developed by the Financial Services Council (FSC) and The Association of Superannuation Funds of Australia (ASFA) that outlines the likely number of negative annual returns expected over any 20 year period.
The purpose of the SRM is to provide a standardised labelling system to assist investors in comparing investment options across providers, as shown below in Figure 1, FSC/ASFA Standard Risk Measure Classifications.
| Risk Label | Estimated number of negative annual returns over any 20 year period |
| --- | --- |
| Very Low | Less than 0.5 |
| Low | 0.5 to less than 1 |
| Low to Medium | 1 to less than 2 |
| Medium | 2 to less than 3 |
| Medium to High | 3 to less than 4 |
| High | 4 to less than 6 |
| Very High | 6 or greater |

Source: FSC/ASFA Standard Risk Measure Guidance Paper for Trustees, July 2011
We have adopted these risk rating guidelines and applied them to our products, as highlighted in Figure 2: InvestSMART Group Investment Products' SRM: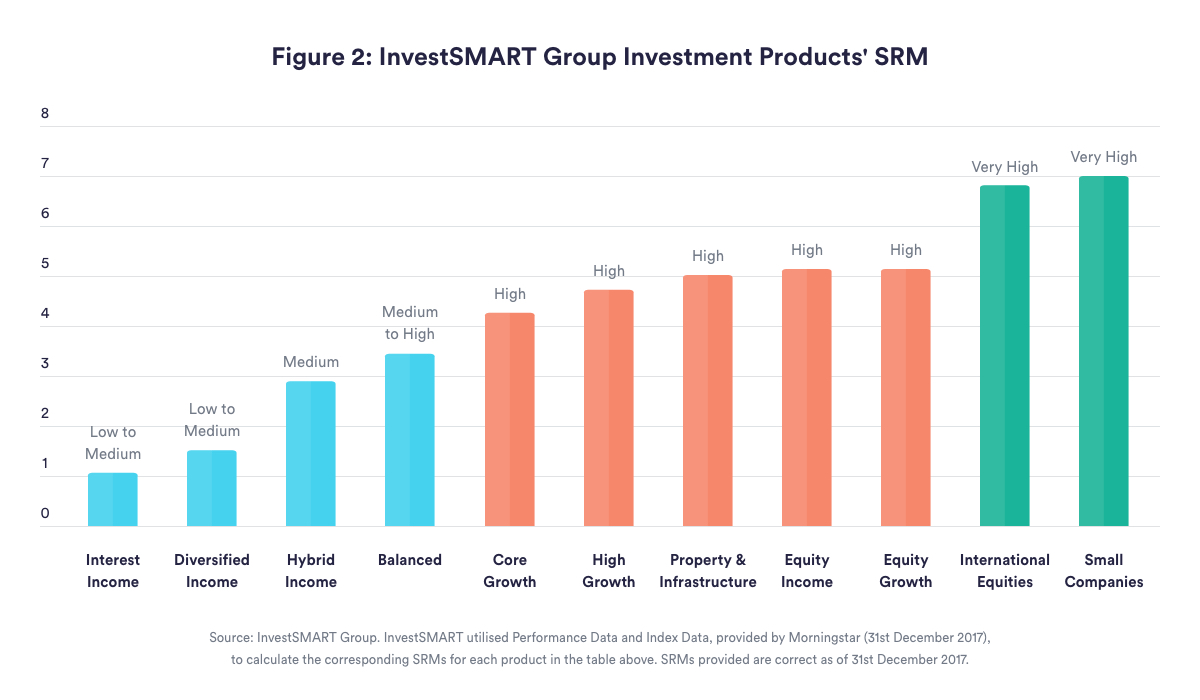 It should be noted, however, that the SRM is not a complete assessment of all forms of investment risk. For instance, it does not detail what the size of a negative return could be or the potential for a positive return to be less than a member may require to meet their objectives. As such, it should be used as a guide and as with any investment, investors should ensure they are comfortable with the risks and potential losses associated with their chosen investment option(s). Any information should be considered general in nature and before making any investment decisions, please ensure that you read all relevant disclosure documents related to that product.
How does the InvestSMART Ethical Share Fund (Managed Fund) (ASX: INES) handle franking credits? Will it retain them or pay them through, and what sort of percentage franking can investors expect?
InvestSMART is required to pay out any income plus franking in the financial year it is earned. The Fund is expected to pay two distributions each year – in February for the December half year and in July for June half year. We will advise franking details with each distribution and provide a tax statement at the conclusion of the Financial Year. InvestSMART expects that distributions of income will be 80-100% franked.
Will the InvestSMART Ethical Share Fund (Managed Fund) (ASX: INES) list at $2.50 initially?
Yes. INES will come on to the market at $2.50. InvestSMART will cover all associated listing costs.
Why will the InvestSMART Ethical Share Fund (Managed Fund) (ASX: INES) not trade at a discount to NTA (Net Tangible Assets)?
We expect the fund to trade at NAV (Net Asset Value), e.g. if the NAV of the fund is $2.60, we expect to see the bid price at $2.595 and the offer price at $2.605 on the ASX. As the issuer of the fund, InvestSMART will make sure that the ASX prices accurately reflect the NAV. We will also publish on our website an "indicative" NAV throughout the trading day that will estimate the NAV every 15 seconds.
When will the distribution be paid and what is it made up of?
The distribution will be twice a year after the end of financial year and calendar year. The distribution is made up of all income received by the Fund. This includes dividends paid, interest earned on cash and realised capital gains.