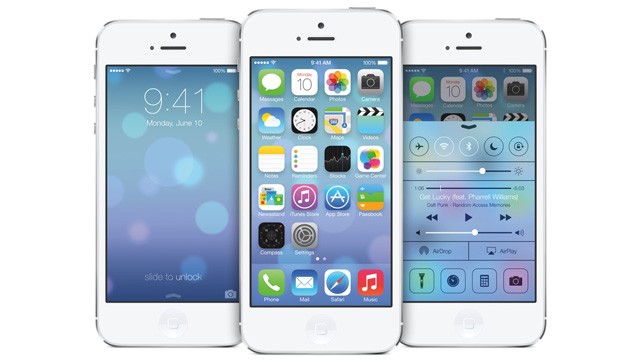 When the rumours about iOS7 and its user interface redesign began circulating, one comment surfaced that it was going to be "polarising". Like many rumours preceding Apple events these days, this one turned out to be true and we have had a procession of commentators declare their love or hate for the new, non-skeuomorphic design.
On Twitter someone asked when Apple was going to bring back the start button; a reference to the public furore caused when Microsoft updated its Windows user interface and replaced the desktop with flat brightly coloured tiles. Unlike Microsoft though, Apple didn't go that far with its new redesign. Actually, people familiar with Android, Microsoft and BlackBerry phones will recognise elements from each of these platforms "homaged" in iOS 7.
To put it less politely, it seems Apple went out and had a look at what was good in other systems and just copied it.
A little bit of everything
This isn't actually a bad approach to design. In fact it's part of a designer's stock in trade. When starting a new design, most designers will look around for ideas and then adapt them. It works this way for many industries such as those making clothes, cars, appliances, and buildings. It is a conservative and non-threatening approach to the consumer. With software in particular, making it look and act the same as other software means that there is less of a learning curve. Small tweaks can be enough to make something look fresh but keep it coherent and familiar.
For Apple, being familiar seems to be the end goal. When it comes to the iPhone, it's all about maintaining the user base with products that have mass appeal. Microsoft almost jeopardised its PC install base with the radical changes in Windows 8 and it's now having to revert some of the changes to appease disgruntled users. Apple also saw what happens when you get a product wrong with the disastrous introduction of its maps program last year.
Tim Cook is nothing but cautious and will do anything to avoid making the same mistake again.
Although Apple didn't have a start button to remove, it did remove the swipe to unlock bar and left just the words "Swipe to Unlock". What it doesn't actually tell you is what direction that might be. I am possibly not the only person that had to use trial-and-error before getting the hang of it.
Swiping up reveals a new control centre, one that is identical to what you have on Android. It is inside the apps that you notice the difference of the new UI. There's a lot of grey everywhere with fewer borders. This is a design element borrowed from Windows 8 and it does make it more difficult to immediately recognise when something is a button and that it will do something if tapped.
Less isn't always more
The biggest difference in the iOS 7 UI from iOS 6 of course is what isn't there. Gone is the reel-to-reel tape that used to feature in the podcast app. So too has the green baize of the game centre and the other graphical adornments of the other Apple apps.
However, what hasn't changed is Apple maps, which still shows the West Australian town of Subiaco in the wrong place and has shrunk Kings Park to a fraction of its true size.
The days of radical changes in smartphones are over as they have been for some time for PCs. New phone releases and operating system upgrades are now becoming as uninteresting as their PC counterparts.
People barely registered the spec changes of the 2013 MacBook Airs for example, nor the Mac Pro. The Mac Pro was slightly more interesting in that it came in a new cylindrical shape. But even this served to remind people of Apple's previous attempts to make a basically functional computer slightly more interesting by using a different shape - remember the Power Mac Cube?
Mac OS X says goodbye to cats
Sadly, Apple's new version of the Mac OS X has discontinued the cat theme (no Mac OS X Grumpy Cat) and have called their new OS, Mavericks. Possibly the biggest change here is a new application for storing passwords in the cloud with iCloud Keychain. The majority of Mac users will simply not notice many of the other changes such as those to Notifications and the addition of tabs on the Finder.
Finally, Apple announced the anticipated music streaming service iTunes Radio. Which is almost identical to all of the other music streaming services such as Pandora, Rdio, Spotify and Google Play Listen Now. Nobody really knows if music streaming will ultimately replace buying music but by having a service, Apple is at least in the game.
What service eventually ends up dominating this market will depend largely on factors such as price - everything else is almost equal.
The one big surprise was how Apple managed to stretch out the keynote at the World Wide Developers Conference to two hours to announce what amounted to being very little. There were no new phones to announce, nor mention of iWatches or iTVs.
These are promised for 2014 but by that time companies like Samsung and Google will have moved even further ahead.