{{ modelLanding.OverviewStat1 }}

{{ modelLanding.OverviewStatDesc1 }}

{{ modelLanding.OverviewStat2 }}

{{ modelLanding.OverviewStatDesc2 }}

{{ modelLanding.OverviewStat3 }}

{{ modelLanding.OverviewStatDesc3 }}
FAQs
Still deciding if InvestSMART is right for you? These frequently asked questions may help.

Investing in small companies
What are small companies?
The definition of what constitutes a "small company" differs within the industry, but in general terms, they are companies with a market value between $300 million and $2 billion.
Why invest in small companies?
Small caps offer an interesting opportunity in the market due to the lack of analyst coverage, subsequent potential for mispricing and long-term growth prospects.
What is the Intelligent Investor Australian Small Companies Fund?
Using Intelligent Investor's value-based investing philosophy, the Australian Small Companies Fund is a managed fund that seeks to deliver moderate to high total portfolio returns over the long term across 10-25 listed small companies, often overlooked by the broader market. These are companies smaller than the largest in the Small Ordinaries Index (curr A2 Milk, worth $3.2B).
The 'Small Ords' are the smallest 300 companies in the All Ords index (e.g. company 201-500).
The fund is managed by our equities team at Intelligent Investor, and will use the same long-term, value investing philosophy that has provided the team's track performance to date.
The main benefits of the Intelligent Investor Australian Small Companies Fund include:
Good potential for generating capital growth
Lower fee structure than most fund managers
Benefit from a unique opportunity - less liquidity means larger funds struggle to invest in small companies.
Good potential for above average returns from active management by the experience team at Intelligent Investor
Limited contributions to ensure that performance is not impacted by the size of the fund, and to maximise the possibility of delivering a better return.
More information on investing in small companies:
Why isn't the Intelligent Investor Australian Small Companies Fund listed on an exchange?
The underlying securities of the fund are small companies which may be too illiquid to invest in through an exchange on a frequent basis.
What is the Standard Risk Measure?
The Standard Risk Measure (SRM) is a guide developed by the Financial Services Council (FSC) and The Association of Superannuation Funds of Australia (ASFA) that outlines the likely number of negative annual returns expected over any 20 year period.
The purpose of the SRM is to provide a standardised labelling system to assist investors in comparing investment options across providers, as shown below in Figure 1, FSC/ASFA Standard Risk Measure Classifications.
| Risk Label | Estimated number of negative annual returns over any 20 year period |
| --- | --- |
| Very Low | Less than 0.5 |
| Low | 0.5 to less than 1 |
| Low to Medium | 1 to less than 2 |
| Medium | 2 to less than 3 |
| Medium to High | 3 to less than 4 |
| High | 4 to less than 6 |
| Very High | 6 or greater |

Source: FSC/ASFA Standard Risk Measure Guidance Paper for Trustees, July 2011
We have adopted these risk rating guidelines and applied them to our products, as highlighted in Figure 2: InvestSMART Group Investment Products' SRM: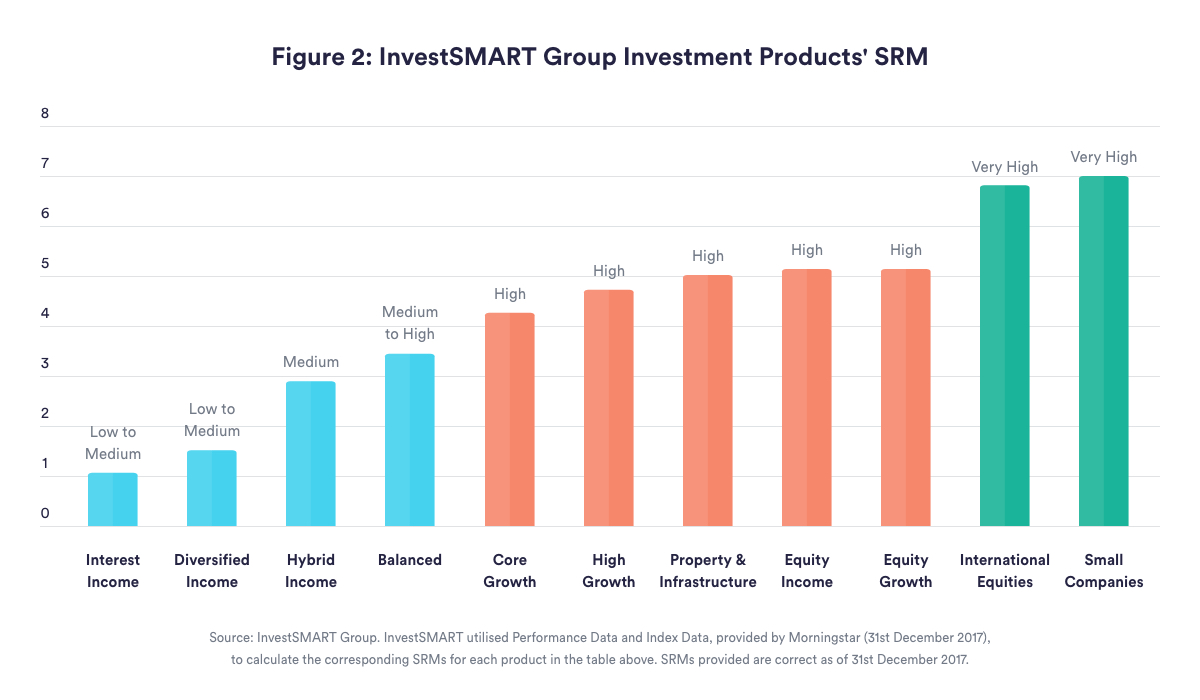 It should be noted, however, that the SRM is not a complete assessment of all forms of investment risk. For instance, it does not detail what the size of a negative return could be or the potential for a positive return to be less than a member may require to meet their objectives. As such, it should be used as a guide and as with any investment, investors should ensure they are comfortable with the risks and potential losses associated with their chosen investment option(s). Any information should be considered general in nature and before making any investment decisions, please ensure that you read all relevant disclosure documents related to that product.